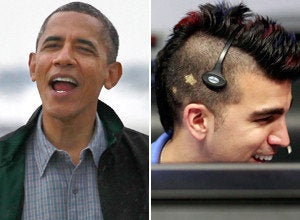 However, Pres. Obama might be hankering to change more about his hair than a few pesky grays, according to remarks he made on Monday to the team at NASA.
The main purpose of the prez's call was to congratulate the team on the Mars rover landing. But there was another viral star of last week's rover coverage: Bobak Ferdowsi's mohawk, adorned with red and purple highlights and yellow stars, which caught national attention after being captured on camera at NASA's Mission Control room during the Curiosity Mars rover's landing. Ferdowsi and his festive hair soon became an Internet sensation.
The prez must read the Internet, because in a congratulatory phone call to NASA's jet propulsion laboratory on Monday, he told Dr. Charles Elachi and the rest of the team how taken he was with Ferdowsi's hair. So taken, in fact, that he confessed a latent hair secret of his own, according to a transcript of the call:
"I understand there's a special Mohawk Guy that's working on the mission. (Laughter.) He's been one of the many stars of the show last Sunday night. And I, in the past, thought about getting a Mohawk myself -- (laughter) -- but my team keeps on discouraging me. And now that he's received marriage proposals and thousands of new Twitter followers, I think that I'm going to go back to my team and see if it makes sense."
The president then acknowledged NASA's somewhat-geeky fashion reputation:
"It does sound like NASA has come a long way from the white shirt, black dark-rimmed glasses and the pocket protectors. (Laughter.) You guys are a little cooler than you used to be." (Laughter.)
Bobak Ferdowsi: not just inspiring the Internet with his hair -- inspiring the leader of the free world. Is a reality show next?
See how Pres. Obama went from dad jeans to power suits!