A Michigan man who participated in a local triathlon over the weekend has been called the "father of the century" by some because of the devotion he has shown for his child.
Rick van Beek of Byron Center, Mich., took part in the Sanford and Sun sprint triathlon this Saturday with his 13-year-old daughter, Madison, the Midland Daily News reports.
The teenager couldn't take part in the event alone, so her heroic dad pulled and pushed her along with him, taking every stride and stroke together toward the finish line.
Maddy, as she is affectionately known, has cerebral palsy. The teen can neither walk nor talk, and her dad says he isn't even sure that she can see.
But what van Beek does know is that Maddy loves the outdoors.
"She functions like a 3-month-old, and one of the very few things that we know she enjoys is being outside, being in the water, feeling the breeze in her hair and in her face," van Beek, 39, told Midland Daily News.
So, in 2008, van Beek -- then terribly out of shape and a heavy smoker -- decided he would start training for outdoor races.
In his blog, van Beek admits that getting into shape was initially extremely difficult.
However, he was determined to live a healthier life for Maddy and to share the fruits of that labor with her.
"I run for and with my daughter," he wrote in 2010.
Story continues below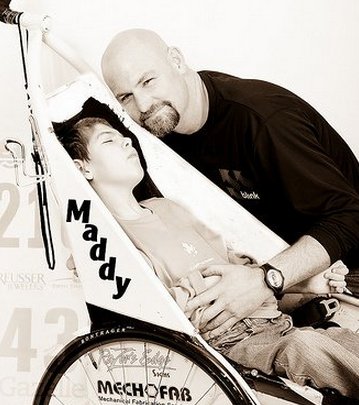 For the past four years, under the name Team Maddy, van Beek and his daughter have been participating in half-marathons, triathlons and other outdoor races.
In an interview with Fox News in May, van Beek estimated that Team Maddy has participated in more than 70 events throughout the years.
"I think Madison has changed more peoples' lives than I even know about -- without doing anything, just being out there. Not me, her," van Beek told Fox News. "We make a good team."
Despite his humility, van Beek has undoubtedly touched many lives himself.
"That was just so inspirational to see," race coordinator Misty Angle told Allegan County News of van Beek, after seeing him cross the finish line at the 2011 Tri Allegan triathlon. "That was definitely one of the highlights of the event for me and a lot of people."
Over the weekend in Sanford, Team Maddy came out in full force yet again.
Despite the gloomy weather, Maddy and her father participated together as usual: Van Beek swimming while pulling Maddy in a kayak, then biking with her in a cart behind him, before finally running the last leg while pushing her in a wheelchair.
"[The emotion I feel for Maddy] drives me or inspires me to do the things that I do. Call it inspiration, call it motivation, call it what ever you want, I call it LOVE," van Beek wrote in his blog last year.
"That will never fade...She is my heart and I am her legs, though someday she might not physically be able to be there with me, she will always be in my heart, quietly cheering me on."
The story of Maddy and her dad is reminiscent of that of Cayden Long, the six-year-old boy with cerebral palsy who participates in triathlons thanks to his older brother. Like the van Beeks, the Long brothers compete together, with 9-year-old Connor pushing and pulling his younger brother through the race course.
According to Midland Daily News, van Beek is planning on forming a non-profit organization called "Team Maddy" that will "raise funds to build equipment and adaptive devices" for special needs children.
For more on Team Maddy, click through this slideshow:
BEFORE YOU GO