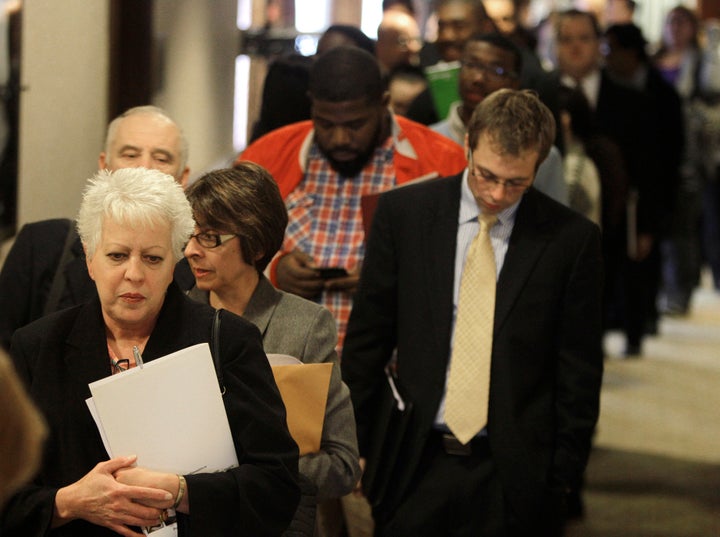 CHICAGO -- State lawmakers from across the country agreed at their annual summit last week in Chicago that Congress needs to keep extended unemployment insurance so long as the unemployment rate stays high.
Even though federal unemployment insurance is not on the congressional radar, the National Conference of State Legislatures approved a resolution in favor of continuing two federal unemployment insurance programs set to expire at the end of the year.
"As a means of stabilizing the economy, NCSL supports extensions of the federal-state Extended Benefits program when unemployment rates are high," said the resolution, which also covered policy issues relating to wages, pensions, and other safety net programs. "NCLS also supports continued reauthorization of the Federal Emergency Unemployment Compensation Program when unemployment is high."
Starting in 2009, Extended Benefits and Emergency Unemployment Compensation combined with state benefits to give the unemployed up to 99 weeks of aid. In February, Republicans and Democrats agreed to reduce benefits so that the maximum duration would gradually fall to 73 weeks by the end of this year.
The reduced federal benefits will expire altogether in December unless Congress reauthorizes them. Otherwise, laid-off workers will have just the standard 26 weeks of benefits provided by most states, even as the average jobless spell in July had lasted 38.8 weeks, and economists expect the unemployment rate to remain above 8 percent for the rest of the year.
Congress hasn't allowed federal unemployment insurance to expire while the national unemployment rate is above 7.2 percent since the 1950s, but lawmakers on Capitol Hill have not hinted at any plans to preserve the benefits -- and the tone of the national political discussion has been increasingly hostile to government safety net programs.
Delaware State Rep. John Kowalko told HuffPost he sponsored the unemployment part of the resolution for the good of the economy. "The worst thing we can do in the midst of a recovery from a recession … is to deny spending capability to people who are out there spending dollars," Kowalko said. "It's the best thing we can do to try to continue the economic recovery otherwise we'll never come out of the recession."
Judy Conti, a lobbyist for the worker advocacy group National Employment Law Project, hailed the NCSL's resolution.
"It's telling that state legislators, those closest to the realities of their constituents, understand the importance of a vibrant [unemployment insurance] safety net," Conti said. "I can only hope that those in D.C. who pay such lip service to state legislatures listen to their colleagues as they take up this issue in November and December."
Benefits will stop for 2 million people on Dec. 29 unless Congress acts, according to the law project.
NCSL resolutions -- also known as policy directives -- guide the legislative positions the organization pushes in Washington. Resolutions can be submitted by legislators for consideration, along with those drafted by NCSL staffers. All resolutions are considered by committees consisting of legislators and legislative staffers before the conference's business meeting, where each state gets one vote.
The passage of the unemployment resolution comes as Republican lawmakers in several states have pared back benefits. And Democratic legislators have expressed concerns over what they see as an increasingly conservative tilt to the national group, in terms of positions taken and the composition of panels at NCSL meetings. This included objections of coal industry representatives on an energy panel and lobbyists discussing policies with legislators at committee meetings. Committee members are named by state legislative leaders, usually from those who volunteer to attend such meetings.
"Some legislators feel there is a more conservative movement and position in NCSL," New Jersey Assembly Speaker Sheila Oliver (D-East Orange) told HuffPost last week. "They are keeping a close watch on this."
An NCSL spokesman told HuffPost that he has heard the same concerns expressed by conservatives and that the group seeks a bipartisan approach.
While each state gets one vote during roll calls at an NCSL business meeting -- 43 states participated in Chicago -- several state delegations were dominated by conservative legislators. This included the North Dakota delegation -- one of the largest -- with a largely GOP group, while New Jersey's consisted of two Democrats.
The unemployment resolution passed on a voice vote, with some dissent. Roll calls can only be requested if five states ask or object to the president's decision on a voice vote, which is routinely participated in by all legislators.
Texas State Rep. Paul Workman, a Republican, protested the resolution, complaining that more federal spending on unemployment means wider federal budget deficits.
"My problem is that the federal government continues to borrow money and put our kids deeper and deeper in debt and we just can't continue to do it," Workman told HuffPost. "The states don't need to be sending the message to Washington that it's OK to be borrowing money we don't have."
John Celock reported from Chicago and Arthur Delaney reported from Washington.
BEFORE YOU GO
PHOTO GALLERY
U.S. State Capitol Buildings