President Barack Obama showed off his wizardry skills at a campaign stop in Iowa this week, whipping out a crystal ball to cast spells and tell fortunes for his spellbound audience. At least that's what the Internet is telling us after harnessing the energy of a fateful photograph of Obama and summoning a meme that has so far managed to include hilarious references to Harry Potter, Lord of the Rings and Jay-Z lyrics.
The image was first first spotted by Dan Amira of New York Magazine.
Here's the original image, taken by Associated Press photographer Carolyn Kaster. For some of the best Wizard Obama creations from contributors at Meme Generator, scroll through the slideshow below it, or just cruise on over there yourself and see if you can do better.
Or, for a different take on this fortuitous photo, tell us what you think Obama sees in his crystal ball. Leave your suggestions in the comments or tweet them to us @huffpostpol using the hashtag #WizardObama. The best will get used in an upcoming project.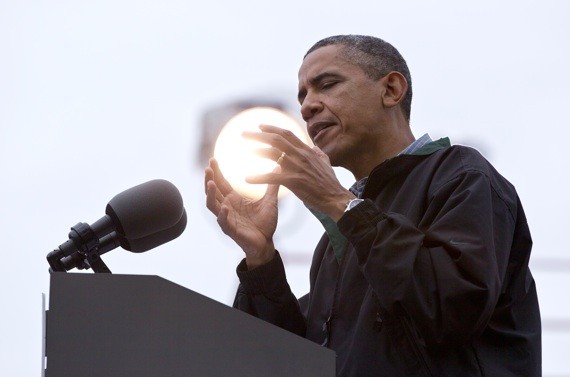 AP caption: A light shines behind President Barack Obama as he speaks during a campaign event at Bayliss Park, Monday, Aug. 13, 2012, in Council Bluffs, Iowa, during a three day campaign bus tour through Iowa. (AP Photo/Carolyn Kaster)
Best of Wizard Obama, from Meme Generator:
PHOTO GALLERY
Wizard Obama Meme
BEFORE YOU GO
PHOTO GALLERY
Politicians Who Look Like Disney Characters