Three years ago, Jack Diamond from Diamond Schmitt Architects, won an international competition to design an additional theatre for St. Petersburg's famous Mariinsky Theatre. The historic opera and ballet theatre opened in 1861 and has since become renowned for its celebrated premieres. Today the theatre is home to the Mariinsky Ballet, the Mariinsky Opera and the Mariinsky Orchestra and is headed by the acclaimed renaissance man, Valery Gergiev.
Gergiev and Diamond first met years ago when Gergiev toured Diamond's glamorous Toronto Opera House, (The Four Seasons Centre for the Performing Arts). Thoroughly impressed, Gergiev picked Diamond's design for the Mariinsky.
What should have been a fairly smooth road to building the new theatre became a "race against time" to see that Diamond got proper approval to begin construction. Because of a previous competition in 2003, work on the new site's foundation had already broken ground and Diamond was left with the difficult task of not only designing the new opera house but figuring out how to incorporate work that had already been completed.

In a recent phone interview with The Huffington Post, Diamond reflected about his design, saying, "The trick is how to both achieve an authenticity of contemporary design and respect the traditions of the past." In a city as old as St. Petersburg this question of architectural history is central, so any architect confronting this massive project had to meld both past and present with ease.
"Some people simply ignore this and make a building that may be interesting but doesn't really sit with its neighbors, while others may simply replicate the past which lacks authenticity. The question is in fact how do you have an authentic building and one that respects the character of the city," Diamond added.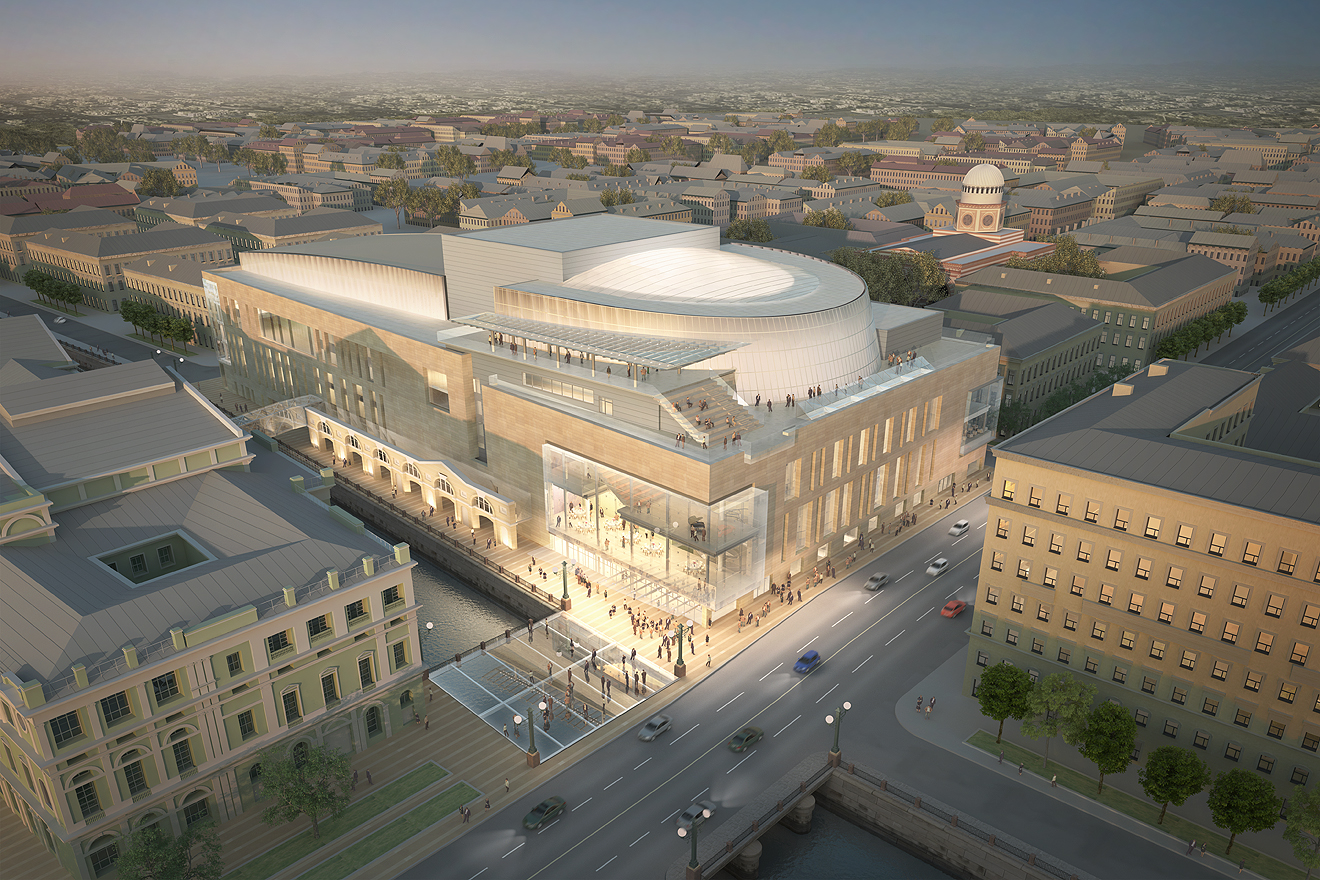 The new Mariinsky Theatre (rendering)
The new theatre will join the original Mariinsky theatre as well as the historic concert hall -- becoming a behemoth performing arts complex. The Mariinsky II will open its doors for trials by the end of this year with an official opening in the Spring of 2013.
What do you think? Is this an architectural masterpiece or does it's slick facade bother you? Let us know in the comments section below.

BEFORE YOU GO