A new retrospective at New York City's Rubin Museum of Art is showcasing the works of Homai Vyarawalla, a celebrated Indian photojournalist who rose to fame as she chronicled the post-independence period of her home country. The exhibit, titled "Candid: The Lens and Life of Homa Vyarawalla," features photographs taken by the artist throughout her career, as she captured memorable shots of cultural greats like Mohandas K. Ghandi and Ho Chi Minh.
Vyarawalla was born on December 9th, 1913 in Navsari, in the western coastal state of Gujarat. She began practicing photography when her family moved to Bombay, now Mumbai, and started her professional career in the arts in her late teens. During World War II, Vyarawalla accepted freelance photography assignments from the Far Eastern bureau of the British Information Services in New Delhi, providing her with unprecedented access to the elite politicians of India. Throughout the 1950s Vyarawalla, now considered to be one of the first females to enter into the field of photojournalism, continued to take snapshots of some of the world's most famous politicians, from the Dalai Lama to Mamie Eisenhower, appearing in publications such as TIME-LIFE and Current.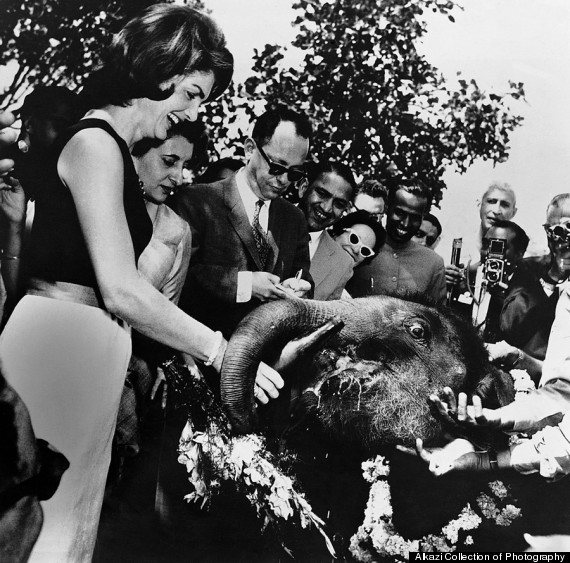 Jacqueline Kennedy feeding Urvashi, the baby elephant at Teen Murti House, 1962. Gelatin silver print. Alkazi Collection of Photography.
Vyarawalla's work is characterized by her ability to capture candid shots of high-profile figures, catching Jacqueline Kennedy in a moment of elation or Queen Elizabeth II demonstrating sincere curiosity. Never posed and often processed in simple black and white, her images depicted the more serene moments of otherwise hectic meetings between these larger than life icons. Her favorite famous subject was certainly Jawaharla Nehru, India's first Prime Minister. Vyarawalla photographed the politician lighting a cigarette or releasing a pigeon, offering intimate glimpses into the fresh face of a new country.
Commenting on Vyarawalla's work, New York Times critic Hollan Cotter wrote: "Much has happened since — sectarian violence, economic upheaval, the extended medical emergency of AIDS — to eat away at that initial tragedy-shadowed optimism. And the heightened, even exultant mood that runs through Ms. Vyarawalla's pictures is nowhere to be found in the work of her younger colleagues."
'Candid: The Lens and Life of Homai Vyarawalla' is on display at the Rubin Museum of Art in New York City through Jan. 14, 2013. This is the first retrospective of Vyarawalla's work outside of India, presenting photographs from the late 1930s to 1970, accompanied by a biographical film.
Check out images of Vyarawalla's photographs below and let us know what you think of the artist in the comments section.
PHOTO GALLERY
Homai Vyarawalla
BEFORE YOU GO