Surely a Disney princess, she of the impossibly bouncy hair and whittled waist, doesn't need any work done, right?
Well, don't ask a plastic surgeon that, because apparently, the iconic Little Mermaid was a prime candidate for few procedures (OBVIOUSLY! She's such a hag.) BuzzFeed's Copyranter spotted this ad from Clinica Dempere, a plastic surgery center in Venezuela, who decided to give Ariel the old nip and tuck anyway in a new spot for their services.
Watch as Ariel escapes from the evil Ursula. What does she do next? Beelines it to the operating table, where, sprawled out before a beckoning surgeon, she gets her wishes granted without giving away her magic voice box.
So, what procedures did the Little Mermaid opt for? She seems to have gotten the full "Real Housewives" treatment with a boob job and a widened pout. And somehow, the doctors in Venezuela managed to sculpt a pair of sexy human legs outfitted with stilettos out of her mermaid tail. It's so magical!
While people have tried to digitally slim down other "Mermaid" characters in the past, the introduction of cosmetic surgery into the pot is definitely an even more somber message to young girls. The clinic's ad is surely an attempt to be cute, but seriously, Ariel: you look great under the sea as is.
PHOTO: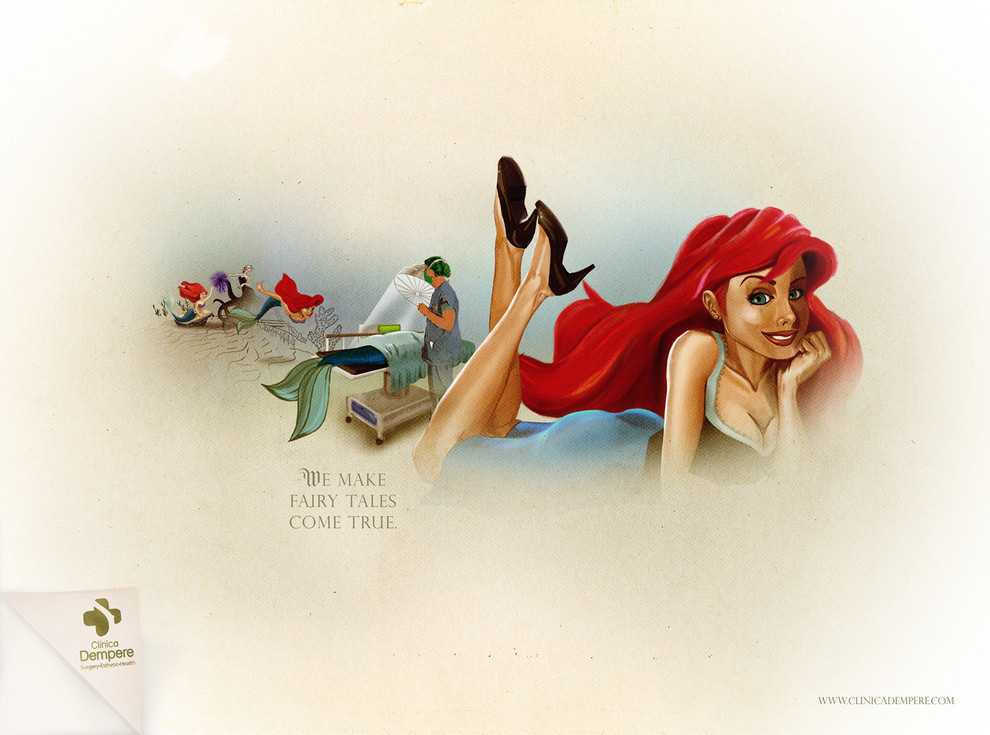 See some Disney princesses makeovers that are definitely way cooler:
PHOTO GALLERY
Disney Princesses As Women Of Color
Want more? Be sure to check out HuffPost Style on Twitter, Facebook, Tumblr and Pinterest.