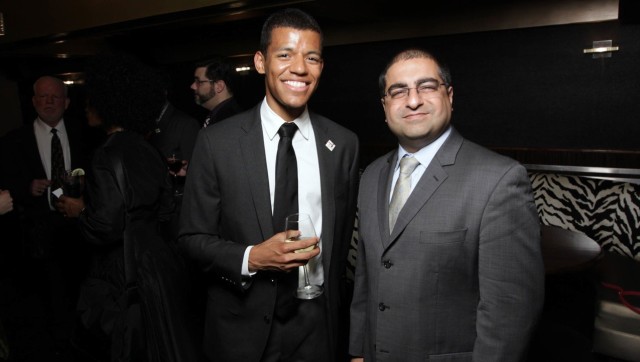 This installment of our "My D.C." Q&A series is with Joseph Ward III, director of Believe Out Loud -- a group that works at the intersection of lesbian, gay, bisexual and transgender equality and Christianity.
He recently told The Huffington Post where he gets good -- yes, good -- Mexican food in the District of Columbia and the expanding community of religious and secular people working toward LGBT equality.
The Huffington Post: What do you do for a living?
Joseph Ward III: I am the Director of Believe Out Loud, an online network that empowers Christians to work for lesbian, gay, bisexual and transgender equality. We do a great deal of work with faith and secular organizations and leaders around the country.
HuffPost: Where do you live and how long have you lived there?
Ward: I've lived in Northwest, D.C. for over half a year now.
HuffPost: What's your commute like?
Ward: I enjoy living downtown because I'm a biker and D.C. is so bike friendly! My commute involves biking downhill to work in the morning, and climbing back up in the evening.

HuffPost: What's your favorite local spot to take out-of-town visitors?
Ward: Meridian Hill Park. It's such a hidden treasure. Having lived in New York City for so long, Manhattan's Central Park was always a go-to spot for walking, jogging or relaxing with out-of-town guest. Meridian Hill Park in Washington, D.C. has the same joy and charm, just in a scaled down way.
HuffPost: What's your position on D.C. statehood?
Ward: I remember when I was a teenager the first time I came to D.C., and I saw a license plate that read "Taxation Without Representation," which is symbolic of the city's frustration on this issue. It really sums up my position. It's so silly that we pay into the federal system, but have no equal federal representation via a voting member of the House and Senate. I think this inequality should be a fundamental concern of everyone in Congress. Of course, so many politicians put politics over appropriately resolving this issue.
HuffPost: What's your favorite local neighborhood?
Ward: I really enjoy U Street. A walk down U Street exposes you to so much culture, history, good food, good entertainment and great bars. And no matter how often I go, it always seems like there is more to see and do.
HuffPost: What's your favorite local restaurant?
Ward: Don Juan in Mount Pleasant -- perhaps the only Mexican food in the city that can compete with my mother's.
HuffPost: Should D.C. lift its height restrictions on buildings?
Ward: We shouldn't compromise Washington's skyline by allowing skyscrapers to be built in the city. If D.C. does lift the restriction, I hope it's only by a floor or two on a case-by-case basis, which local communities should be allowed to weigh in on.

HuffPost: What do people in D.C. complain about too much?
Ward: Party politics.
HuffPost: What local issue should D.C.-area residents pay more attention to?
Ward: I've seen many spots around D.C. where there are sharp socioeconomic divisions -- east of the Capitol building for example. Literally being able to look across the street between means and poverty is a big problem that more people should care about.
HuffPost: Is there a large community of people in D.C. who are interested in the intersection of Christianity and LGBTQ issues? What are the main issues at that intersection?
Ward: What's so exciting is that there is this rapidly growing community of Christians and non-Christians who want to work together for LGBT equality. There are still Christians around the country not yet ready to take that step, but many of them are motivated by love and genuinely find themselves at an intersection with some conflict. They are trying to figure out what to do. Their loving hearts inspire them to ask hard questions about what they might have been "told" to think about gay and transgender people, versus what they see in their gay or transgender friends and family who they care about. Everyday people are changing their hearts in minds in this community. It's amazing to see these transformations.
Anyone you'd like to see us interview? Email dc-tips@huffingtonpost.com.
BEFORE YOU GO