We always perk up when we see Trista Sutter, the original Bachelorette, back in the news. But this time was, er, extra perky: Sutter revealed to Life & Style that she decided to undergo plastic surgery.
The mother of two, who met her husband Ryan Sutter on the inaugural season of "The Bachelorette" in 2003, is known for her fit figure (she's showed it off here, here, here...) But after giving birth to her children, Maxwell and Blakesley, Sutter decided she wasn't as proud of her bikini bod as she'd once been. "After nursing both my kids for a year each, my boobs were deflated," she told the magazine. "And I had a droopy eye. It was something that I noticed in every picture I've ever taken."
We hadn't noticed a thing (Sutter's, like, the hottest mom ever) but whatever floats your boat. So Sutter underwent blepharoplasty to lift her eyelids and "breast augmentation with an internal lift" to return to her perky ways.
While we were a little dismayed to hear the gorgeous mom had gone and messed around with her face (and chest), she may just be following a "Bachelor" franchise tradition. Vienna Girardi, winner of season 14 of "The Bachelor" and a "Bachelor Pad 2" contestant, had a nose job following her "BP2" appearance. Ella Nolan, also on season 14 of "The Bachelor" and "Bachelor Pad," underwent rhinoplasty, breast implants and liposuction after her stint on TV.
And Us Weekly reported that Emily Maynard, who recently found love as the most recent star of "The Bachelorette," got breast augmentation prior to appearing on season 15 of "The Bachelor." And that's really just the tip of the iceberg when it comes to "Bachelor"/"Bachelorette"/"Bachelor Pad" cosmetic surgery. Perhaps there is some correlation between appearing on the reality TV franchise and wanting to augment one's looks?
In any case, Trista says she's happier and more confident now that she's gotten a boost. Life & Style has the "before" and "after" photos -- can you see a real difference?
Read more at LifeAndStyleMag.com.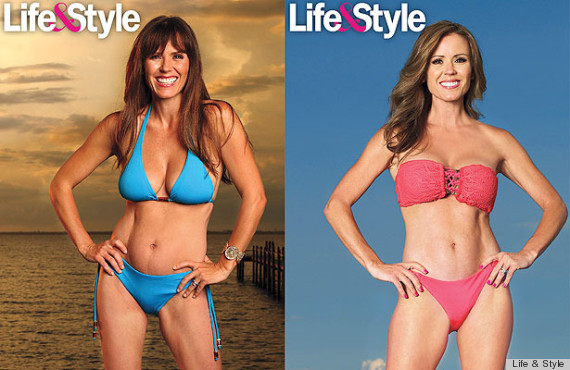 Stars who regretted their plastic surgery:
PHOTO GALLERY
Plastic Surgery Regrets
Want more? Be sure to check out HuffPost Style on Twitter, Facebook, Tumblr and Pinterest.