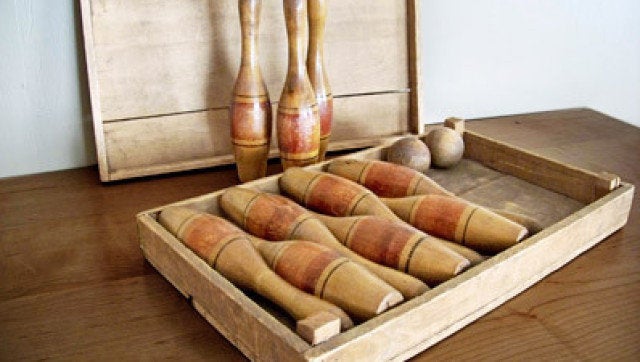 We're very excited to syndicate one of our favorite columns, 'What Is It? What Is It Worth?' from one of our favorite magazines, Country Living. All text and images below are provided by Country Living. Get ready to be surprised!
"My father passed down this miniature 10-pin set. How old do you think the toy is?" - W.G., Little Rock
Our antiques specialist, Helaine Fendelman, appraises your finds and collectibles.
Judging by those Deco red-and-black stripes, I'd date this heirloom to the 1930s, when bowling, a fashionable pastime, spawned smaller versions such as this, intended primarily for home play. This unmarked novelty was likely used indoors, or, say, on a sidewalk or flat patch of dirt. All by themselves, the slender nine-inch-tall fir pins could fetch $50, but the fact that this is the the whole package—with two fir balls and a pine box—doubles my appraisal (that beautifully aged patina doesn't hurt, either). And right now, this game feels totally on trend: Restoration Hardware is selling decorative wooden bowling sets, modeled after a 1920s French version, for $300 a pop.