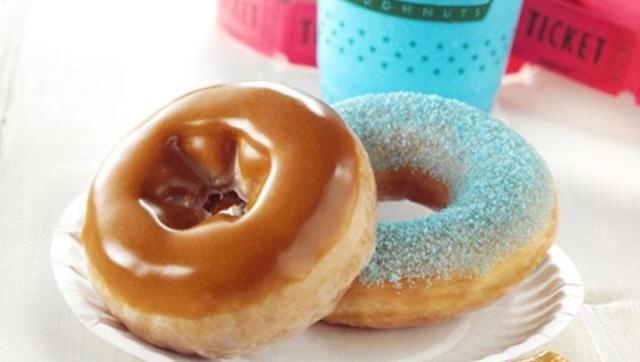 You know the feeling: you're eating your Krispy Kreme donut and you think to yourself, "Needs more sugar."
To counteract your potentially low blood sugar levels, Krispy Kreme is releasing two new donuts, just in time for State Fair season: Cotton Candy and the Caramel Apple Cake Donut. The Cotton Candy donut is an original Krispy Kreme glazed donut, dipped in cotton candy sugar and the Caramel Apple Cake donut is an apple donut drizzled with caramel icing.
Just in case you need something complementary to wash the new donuts down, Krispy Kreme is pairing their new donuts with two similarly-flavored beverages -- the Frozen Cotton Candy Chiller and the Caramel Latte, which can be served hot or on ice.
According to QSR Magazine, these new treats will be available from August 20th – September 30th at participating Krispy Kreme locations in the U.S. and Canada. Brand Eating notes that some participating grocery and convenience stores will also make the Caramel Apple Cake Donut available.
BEFORE YOU GO
PHOTO GALLERY
Wild Dunkin' Donuts Flavors