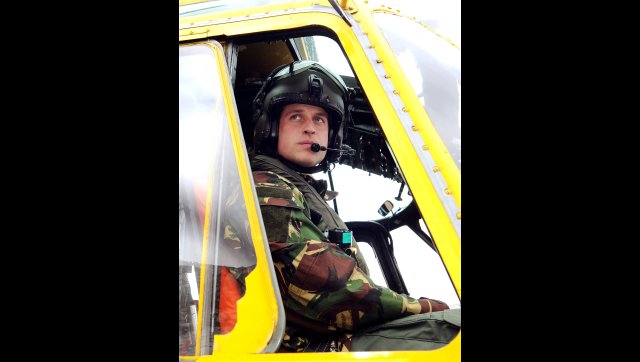 Prince William helped to save a drowning teenager yesterday, proving that there are such things as knights in shining armor.
The Duke of Cambridge, a Royal Air Force pilot, answered a distress call with his team after a 13-year-old girl and her 16-year-old sister were caught in a riptide off the coast of Anglesey (where Will and Kate live). The older teenager had swam out to pull her sister out of danger, but she nearly drowned before the duke swooped in with his RAF Sea King helicopter, according to The Telegraph.
It took Prince William and his crew a mere 38 seconds to reach the drowning teenager (Will piloted while his crew pulled the girl out from the water). Master Aircrew Harry Harrison was on the scene with Prince William and gave this description to BBC:
When I got to her, the elder girl was clearly exhausted and was going under the water for what was the very last time...We never know what we'll face when we're called out. Sometimes its just a twisted ankle or a broken bone, but this was one rescue where we truly did arrive in the nick of time and managed to save two young lives.

Looks like we have some real heroes in our midst -- cue the swooning. The 16-year-old teen must have been enormously grateful to have been rescued, but we're pretty sure that Prince William's involvement was a huge added bonus. This will definitely be a story for the grandchildren...
Even though there are no pictures from the rescue, here are some shots of Prince William in his helicopter to give you a sense of how dreamy he is in uniform.
PHOTO GALLERY
Prince William in Helicopters
Want more? Be sure to check out HuffPost Style on Twitter, Facebook, Tumblr and Pinterest.
BEFORE YOU GO