What will it take for manicures and pedicures for men to go mainstream? Perhaps finding a high-profile man to sing their praises.
Enter Cory Booker, the respected mayor of Newark, New Jersey, who has apparently gone on the record singing the beauty treatments' praises. Booker sat for an interview for Du Jour magazine's inaugural issue, in which he chats about politics and his off-duty hobbies. The New York Post got a preview and the highlight seems to be Booker divulging a secret love for mani-pedis:
"I had an ex-girlfriend who ruined me in terms of my macho, ex-football-player self -- she turned me on to mani-pedis... Being a public figure, people talk smack about you, so I found this 24-hour mani-pedi place and go in the middle of the night. It's this guilty pleasure I have. Look, manis are good, but pedis -- there's something... transformative."
We have waxed similarly about transformative powers of a good pedicure, but it's rare to hear the words from a man's mouth. But perhaps we shouldn't be surprised -- Booker knows a thing or two about personal style, having undergone various fashion interventions over the years.
He told Menswear magazine that his staff helped him improve his suits, avoid faux pas like Speedos and even eliminate unflattering pleated pants from his wardrobe. He also aspires to enhance his tie knot to Obama levels of perfection (the president fashions a mean dimple).
In other words, Booker is not only impeccably groomed but also stylishly dressed. Also, he co-stars in an online comic book with none other than HuffPost Style's mascot, Ryan Gosling.
Is it acceptable to say we're developing our first-ever mayor crush?
Read more in the brand-new Du Jour magazine. Below, a quick snap of Mayor Cory Booker: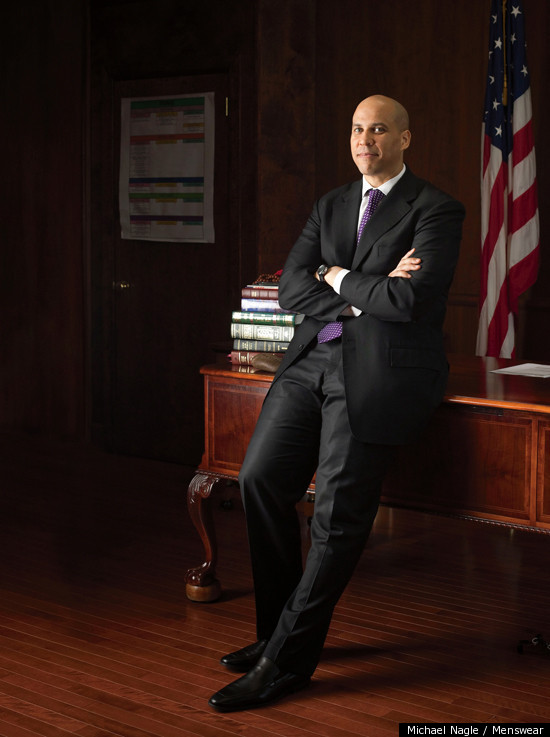 How does Booker stack up against Hollywood's most stylish men?
PHOTO GALLERY
Fashionable Men Of Hollywood
Want more? Be sure to check out HuffPost Style on Twitter, Facebook, Tumblr and Pinterest.