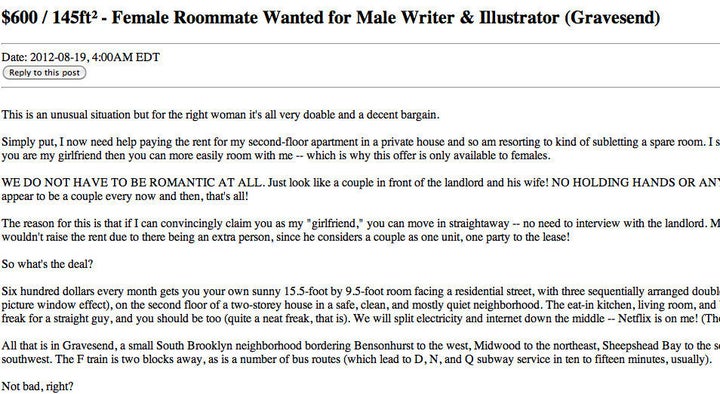 Simply put, I now need help paying the rent for my second-floor apartment in a private house and so am resorting to kind of subletting a spare room. I say "kind of" because if I can claim that you are my girlfriend then you can more easily room with me -- which is why this offer is only available to females.
WE DO NOT HAVE TO BE ROMANTIC AT ALL. Just look like a couple in front of the landlord and his wife! NO HOLDING HANDS OR ANYTHING LIKE THAT -- just kind of appear to be a couple every now and then, that's all!
Weird for sure, but we've heard of this before. And hey, for cheap rent, even we think it's unfair to judge anyone willing to put up with the charade. The act, however, comes with a few stipulations of which we just can't approve:
No visits allowed except family on occasion by prior arrangement (no friends, romantic or otherwise!)

Quiet -- near silence -- most times is a must (I am a writer and need peace to read and think)

I have final say in any disagreement that may (hopefully won't -- ever) arise, except as stipulated in this ad or in the agreement we will sign
At least the poster ends with, "GOOD LUCK TO EVERYONE on the search for decent quarters in this extremely expensive city!"