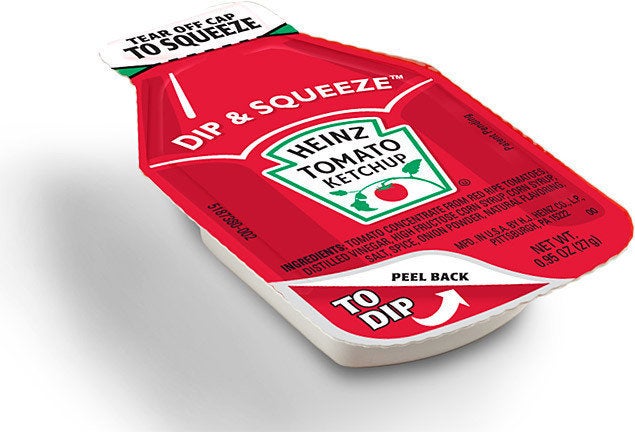 Back in 2010, Heinz seemed to solve an age-old problem routinely faced by fans enjoying its ketchup on the move. With the new "Dip & Squeeze" packet, consumers could both easily spread the condiment on burgers and sandwiches, as well as use it as a dip for french fries.
But according to a recent lawsuit, the "Dip & Squeeze" idea may have been stolen. Scott White, an inventor who works as a risk analyst at the Chicago Housing Authority by day, is suing Heinz, alleging the condiment company stole his CondiCup design after he pitched it to them in 2006. (Hat tip: the Wall Street Journal.)
White argues that his container, while designed to fit into a car's cup holder, was the first to allow consumers to either peel off a small portion of the lid to squeeze a condiment out, or to remove the lid entirely for easy dipping.
A Heinz spokeswoman wrote in an email to The Huffington Post that the company "worked for years to develop its patented dual-function Dip & Squeeze package." She added: "Heinz won a similar lawsuit earlier this summer. This is another frivolous lawsuit and we will aggressively defend our position and demonstrate that the allegations are groundless and without merit."
White could not immediately be reached for comment.
PHOTO GALLERY
Brands That Have Become Ideological Battlefields
BEFORE YOU GO