Newly engaged Jennifer Aniston was back at work on Monday on the set of her new movie "We're The Millers" in North Carolina, and everything was business as usu -- wait a minute. What's that on her left hand?
Aniston's already sported bangs and frumpy clothes for her role, but she's made some big life changes off the set too -- she got engaged to her beau of a year, Justin Theroux, earlier in August.
And now, of course, fans have been on a fervent Ring Watch, hoping to catch a glimpse of the 43-year-old actress' sparkler, which is reportedly an eight-carat "huge emerald-cut diamond" with "tapered diamond baguettes." So far, though, she's been sly about flashing her bling -- which is probably why photographers were excited to spot her with a ring on her finger on set on Monday.
While some people are claiming this is Jen's sparkler from Justin, we're dubious. First of all, her rock is supposed to be eight carats, which would be, uh, pretty visible, right? We're not seeing any of that here. Further, Jen is obviously in full wardrobe for her role as Jason Sudeikis' prostitute wife, which would probably entail her wearing a wedding band.
So, we're not uncrossing our fingers yet -- we suspect Aniston's big fat diamond has yet to be seen.
But! Take a look below and tell us what you think.
PHOTO: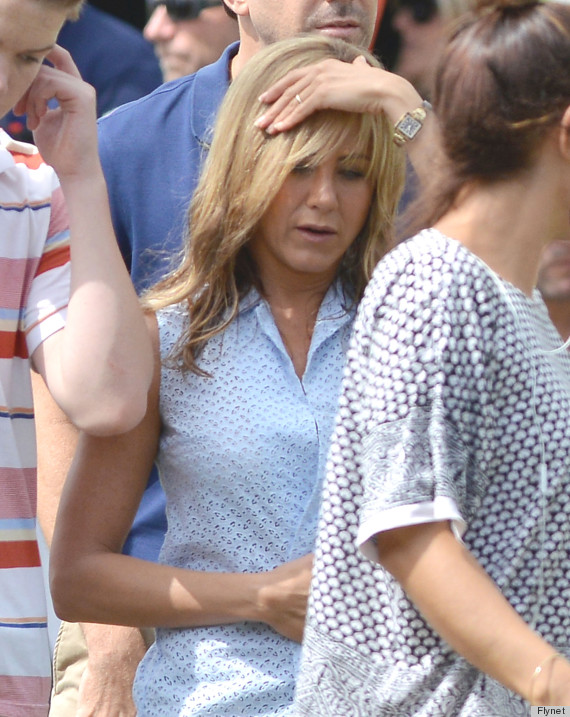 Check out Jen's style evolution below!
PHOTO GALLERY
Jennifer Aniston's Style Evolution
Want more? Be sure to check out HuffPost Style on Twitter, Facebook, Tumblr and Pinterest.