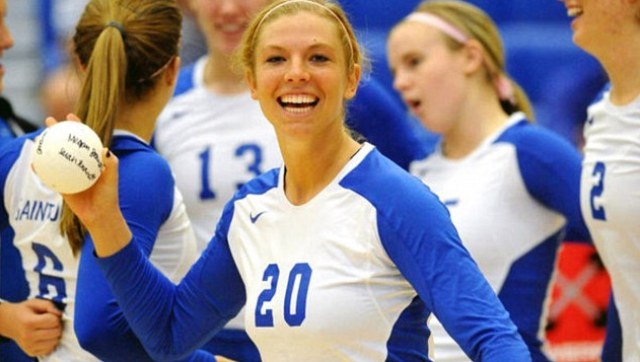 The murder of a recent college graduate in St. Louis this weekend appears to be the result of a botched robbery, police said Monday.
Megan Boken was shot twice in her parked Volkswagen in the city's Central West End neighborhood, a low-crime area close to St. Louis University, where Boken had played volleyball and from which she graduated in 2011. She died at a nearby hospital of wounds to her neck and chest.
The shooting happened in broad daylight at roughly 2:15 on Saturday afternoon.
"That is unique for the area," St. Louis police spokesman David Marzullo told The Huffington Post.
Witnesses described the shooter as a black male with a thin build and medium complexion, between 5'8" and 5'10", wearing a gray shirt, khaki pants and white tennis shoes. He remains at large.
"We're investigating it as an attempted robbery," Marzullo said. He requested that anyone with information about the shooting call CrimeStoppers at 1-866-371-8477.
"I know it's somewhat of a general description, but we are asking for the public's help on this," Marzullo said.
Police are canvassing the area for surveillance tapes that may have captured the shooter and are examining Boken's car for evidence. Marzullo said the police do not have any immediate plans to release a sketch of the suspect.
A spokeswoman for St. Louis Mayor Francis Slay tweeted over the weekend that "victim and suspect appear to have known each other." But Marzullo said the police have no indication that this was the case.
"We have no evidence of that," Marzullo said. "We didn't put that out."
Boken's family and friends pushed back hard against the suggestion that the killing was anything but a random attack.
"There's no way she knew this person. Not possible. We don't hang out with people that have guns or that carry guns or that hurt people," Sarah Entzeroth, Boken's friend, told KSDK television.
According to family and friends, Boken had moved back home to the Chicago area after graduation to find work. She had returned to St. Louis to participate in an alumni volleyball tournament.
St. Louis has one of the highest homicide rates in the country, according to FBI statistics.
BEFORE YOU GO
PHOTO GALLERY
Megan Boken