Thomas Kinkade, the popular artist who passed away earlier this year from a drug and alcohol overdose, has been consistently popping up in headlines since his death. However, this time the news is about his art, rather than the controversy surrounding his estate.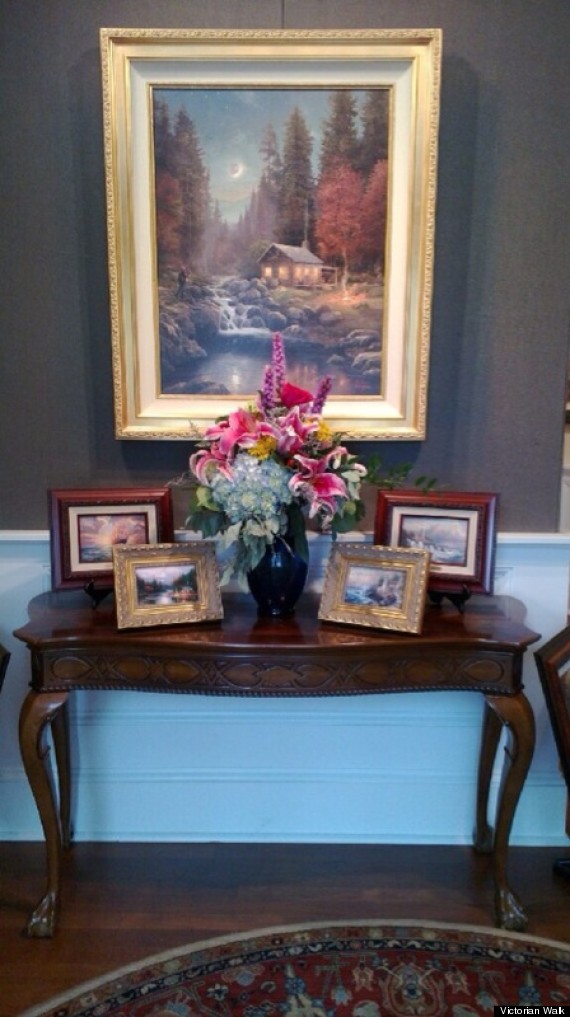 'Away From It All,' Thomas Kinkade

Kinkade's last known work was revealed this weekend at Victorian Walk Gallery in Cape May, New Jersey as part of "The Thomas Kinkade Legacy Celebration." The work, ominously titled "Away From It All," contains many of the classic Kinkade elements such as a woodland cottage, crescent moon and his signature twinkling lights. The press release goes so far as to refer to him as "America's Most Favorite Artist." (Move over, Warhol!)
Kinkade had an attachment to the idyllic beach town of Cape May; he was a frequent visitor and captured the seaside architecture in five original paintings. The celebration debuted this weekend at the gallery and the Cape May Convention Hall, displaying the largest museum collection of Kinkade works ever exhibited on the East Coast. But the clincher is the unveiling of Kinkade's last painting, which his family has not shown publicly until now.
Kinkade's brother Patrick presented the work on Saturday along with a video about Kinkade's life and work. He delivered a speech, recalling Thomas' childhood discovery of his artistic talents. "He had this little coffee table," Patrick said. "And he put a towel over it and he'd line up his crayons, watercolors and his colored pencils and he called it his studio." Of the later controversy that clouded Kinkade's name, Patrick responded: "like any human, he struggled with his own demons... His art I believe was divine."
While most of the buzz surrounding Kinkade is critical if not indignant, this Kinkade celebration recalls the alternate memory of Kinkade, one who painted charmed cottages, warm with light, brightening the lives of the estimated one in 20 Americans who display his work in their homes. Dawn DeMayo from the Victorian Walk Gallery, which exists solely to represent Kinkade's work, told NBC "it's going to go down in history that we were the first ones to unveil one of those paintings."
Dawn has represented Kinkade for 20 years. During a phone interview with The Huffington Post, she described the weekend as exceeding all of her expectations, with over 2,000 people showing up in just three hours. When asked if there was any controversy surrounding the exhibition she responded: "People are here to relax and enjoy life. This is a wholesome community; we don't really read tabloids." She continued, "This was a tribute to the great artist of our time. There was nothing but extremely positive support."
While Kinkade's legacy on the East Coast was glowing as brightly as his luminous little fireplaces, troubles on his West Coast home turf continue to mount. Last week, in the ongoing battle between Kinkade's estranged wife and new girlfriend for his inheritance, the girlfriend had "taken his mansion hostage," refusing to leave while not paying rent.
What do you think of Kinkade's final work? See a slideshow below and let us know in the comments.
PHOTO GALLERY
Thomas Kinkade
BEFORE YOU GO