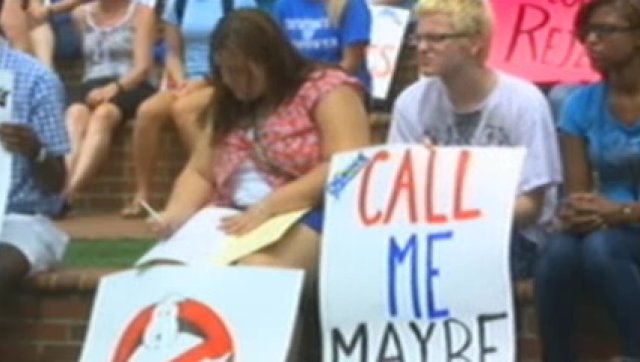 Monday was the first day of classes at Augusta State University and 300 students and community members gathered on campus to demonstrate against a decision by the school's governing board to change the school's name.
The school was known as Augusta College until it changed to Augusta State University in 2001. The regents decided by a 17-1 vote this year to change the name to Georgia Regents University when ASU merged with Georgia Health Science University.
The Augusta Chronicle reports a Consolidation Working Group gathered about 1,200 names from the community and narrowed them down to 25, then to just three; University of Augusta, Georgia Arts and Sciences University and Georgia Regents University. The Regents decided on their own to pick Georgia Regents University, even after a $45,000 survey conducted by Kennesaw State University found University of Augusta was the top-vote getter among 1,400 people polled nationally and statewide.
Students held signs on Monday reading "Call Me Maybe," referring to the lack of public input on the name change.
"Nobody wanted it," Courtney Bowen, a student at ASU, told WRDW. "I mean he really didn't listen to anyone that went here and that's not fair to us because we have to have it on our diploma."
OnlineAthens.com reports Joe Bowles, Augusta's mayor pro tem, asked the crowd, "What the hell is a GRU?" in reference to the name approved by the Board of Regents. He also said the name change was a "slap in the face."
The Facebook group "Everyone Against 'Georgia Regents University' Sound Off" helped organize the protest along with local radio personality Austin Rhodes, WRDW reports. The Facebook was started shortly after the announcement of the new name on Aug. 7.
"The total lack of honesty there is no way in the world that they can get away with trying to make people believe that there was a conversation about his name, there was not," Rhodes said.
Students and community members showed up at a public forum recently to voice their objections. One man said then the biggest issue was the decision to use a name which did not include "Augusta." Alumni have warned the name change could lead to a lack of donations because they hold "ASU" in a special place in their heart and do not feel connected to "GRU." At least one member of the Georgia Health hospital board resigned over the name change.
"We're the second biggest city in Georgia," Jerod Gay, an ASU student, told WRDW, "and I don't see any reason why we shouldn't be able to have our name reflected in the merger of the new school."
GHSU President Ricardo Azziz insists they won't be changing the name. Internal emails show Azziz was steadfastly opposed to including Augusta in the new name at all.
The Augusta City Commission will vote on a resolution Tuesday to decide whether or not to take sides in the dispute. An online petition is also being circulated.