On a recent morning in Caracas, Venezuela, over a dozen topless women donning only red pants congregated in front of the Museo de Arte Contemporáneo to demand the return of Matisse's "Odalisque in Red Trousers." The painting, which is worth over $3 million, was replaced with a fake more than ten years ago at the museum. In a surprising twist of fate, the painting was reclaimed by the FBI in Miami Beach last month -- however, it has yet to be returned to the Venezuelan museum.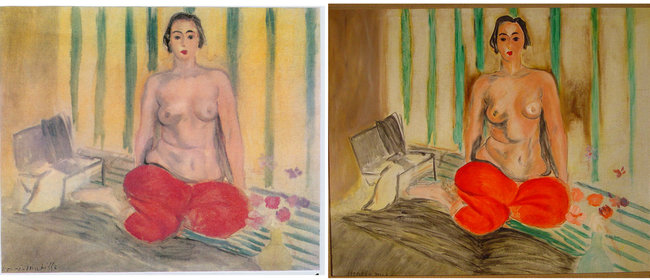 The original "Odalisque in Red Trousers," is on the left next to the fake.
Violette Bule, the photographer who organized the protest, told the Guardian that, "My main goal is to have the original returned but I also want to call attention to the irony behind the way the art market works. After this scandal, the Odalisque will surely be worth much more." The New York Times reported that 14 pieces have gone missing from the museum, though the Matisse wasn't counting among these during an inventory over a decade ago.
Despite Venezuelan attorney general Luisa Ortega's attempts to contact US officials regarding the return of the painting, all calls have reportedly gone unrecognized, according to the Guardian. Wanda de Guébriant, director of the Archive Matisse in France, is just as perplexed. "The FBI called me shortly after the operation happened. They said they'd call again but they haven't. Who knows?" Guébriant said in a statement to the Guardian. "Depending on who is involved, sometimes we never find out what happens."
What do you think, readers?
Check out the slideshow below to see more creative arts-related protests, and let us know your thoughts in the comments section.
PHOTO GALLERY
Arts Related Protests
BEFORE YOU GO