More Americans think No Child Left Behind has made education in the U.S. worse rather than better, according to results from a Gallup poll released Monday.
Of those surveyed, 29 percent believe the Bush-era education law has worsened education in America, compared with just 16 percent who said it has improved the system. Another 38 percent said NCLB hasn't made much of a difference, while 17 percent are not familiar enough with the policy to rate its effectiveness. Of those who say they are "very familiar" with the law, 28 percent say it has made education better and 48 percent worse.
The Gallup report points out the lack of "meaningful difference" in the public's view of NCLB by political party, as Democrats and Republicans rated the law similarly across categories of effectiveness, "perhaps reflecting the broad bipartisan support" for the law when it passed through Congress in 2002.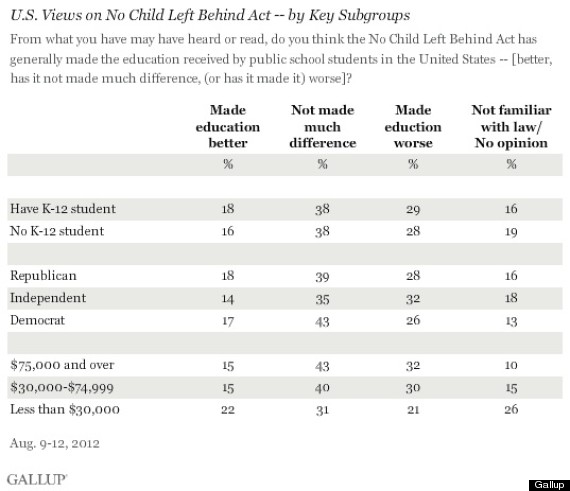 Still, those very party lines have shaped Congress' failure to rewrite the law. No Child Left Behind, which reauthorized the 1965 Elementary and Secondary Education Act, has been due for another reauthorization since 2007. The law is a signature initiative of the George W. Bush administration, requiring standardized testing of students and a system of school penalties for low test scores. The law also called for making all students proficient in math and reading by 2014.
But the rewrite has stalled in Congress as Democratic and Republican bills have failed to pass following a months-long series of partisan pyrotechnics. Senators Tom Harkin's (D-Iowa) and Mike Enzi (R-Wyo.) unveiled a bill of "compromise" last October that would pull back the federal government's role in school accountability, preserve President Obama's Race to the Top grant competition and would not require rigorous teacher evaluations.
After that proposal stalled, Rep. John Kline (R-Minn.) came out with his version in January, heavily rolling back federal sanctions against poor performing schools and offering states flexibility in funding distribution. His plan also pushes a number of accountability and reform points down to the responsibility of schools and localities, no longer requires student testing in science and mandates test-score-based teacher evaluations.
Meanwhile, Obama has held to his 2008 campaign promise of releasing states from No Child Left Behind, having waived 32 states and Washington, D.C. from the sweeping law. Eight of the waivers granted are, however, conditional as part of their plans are under review.
The Gallup poll also found that lower-income Americans show the most support for the law, as 22 percent of adults in households earning less than $30,000 annually believe the law has improved public education, compared with 15 percent of those in higher-income households.
The results from this survey are in line with a January Gallup poll, which found that Americans tended to favor either eliminating the law or keeping it with heavy revisions. Just 21 percent of those surveyed said the law should be kept in its original form.

BEFORE YOU GO