Earlier this week Britney Spears lamented the end of summer by posting a photo of herself looking amazing in a white bikini, but according to Us Weekly, that photo is really old.
"Y'all ready for summer to end? I'm definitely not," the 30-year-old singer wrote on her Facebook page, posting a sexy snapshot that was apparently taken back in 2008. According to the magazine fans started to suspect something was up when the singer didn't mention where the photo was taken.
Now, we know Britney looks amazing in a bikini. Just last month she shared a photo from her family vacation, in which she rocks a purple bikini -- and we know the photo is actually recent because of how old her sons Jayden and Preston are in the photo.
So why the old photo? We have no idea, but Britney's not the only celebrity who is slyly trying to pass off old photos as new ones. Last week while vacationing in Hawaii, Kim Kardashian posted a couple of photos of herself in a retro bikini and wrote "Aloha" and "Me Ke Aloha," which made it seem like the photos were from her trip. Strangely, the photos were actually from a 2009 photo shoot in the Bahamas. Again, we don't know why Kim tried to dupe us with old photos, because if there is one thing Kim Kardashian can do it's pose in a bikini.
PHOTOS: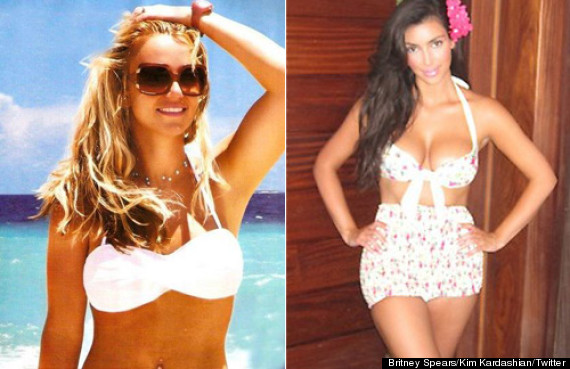 PHOTO GALLERY
Celebrities Hit The Beach & Pool
BEFORE YOU GO