Tropical Storm Isaac's path veered further westward Thursday afternoon and is likely to develop into a hurricane come Friday. Isaac threatens to unleash on Haiti.
Isaac's path was moving westward at 15 mph as of 11 a.m. Thursday, positioning about 200 miles south to southeast of San Juan, Puerto Rico, with winds of 40 mph, the Palm Beach Post reported via the National Hurricane Center. The storm's path is expected to make a west to northwest turn Thursday afternoon and continue on this path through Saturday.
Brian McNoldy of the Washington Post's Capital Weather Gang noted that Isaac's winds have weakened since Wednesday, but the forceful winds continue to extend out 140 miles from its center.
Tropical storm warnings have been issued for the Virgin Islands, Puerto Rico and the north coast of the Dominican Republic. Hurricane warnings are in effect for the south coast of the Dominican Republic and all of Haiti, added McNoldy.
As the storm moves westward, it looms closer to Haiti.
Isaac currently poses a threat to already-damaged Haiti, where 400,000 Haitians are currently living in camps attempting to recover from the 2010 earthquake, according to CNN.
Twelves inches of rain could fall on the country. "These rains could cause life-threatening flash floods and mudslides," the National Hurricane Center in Miami said.
Isaac would be the first significant storm to hit Haiti since the earthquake and the NHC forecast map shows the tropical storm passing the region with winds under 74 MPH. "We watch those storms every single time they come near because Haiti is so vulnerable," Amy Parodi, a spokeswoman for the Christian humanitarian organization World Vision, told CNN.
Another threatened area in Isaac's path is Tampa, Florida, where the Republican National Convention will be held next week. "Monday are Tuesday are definitely in jeopardy," said meterologist Bill Karins on MSNBC Thursday. "I don't see any way possible that Tampa's going to be completely missed at this point."
Florida Gov. Rick Scott wants the residents of his state and those coming for the RNC to be prepared if Isaac turns into a mighty hurricane.
"Isaac is a unique storm in this regard," Scott said during a briefing that aired on CNN's "Starting Point," as reported by Politico. "It has the potential to threaten a major convention, designated a special national security event."
"These officials have been working together to plan the convention for the past 18 months," Scott said. "The possibility for a hurricane has been part of that planning process. All that's required for those plans to be activated is there to be a hurricane, and hopefully that will not happen."
Emergency officials in Florida have been preparing and families must stay vigilant.
For those in Isaac's path, please refer to "A Preparedness Guide" created by the National Weather Service and the National Oceanic and Atmospheric Administration to find out how you can be ready before and during the storm.
LOOK: Predicted path of tropical storm Isaac through Aug. 28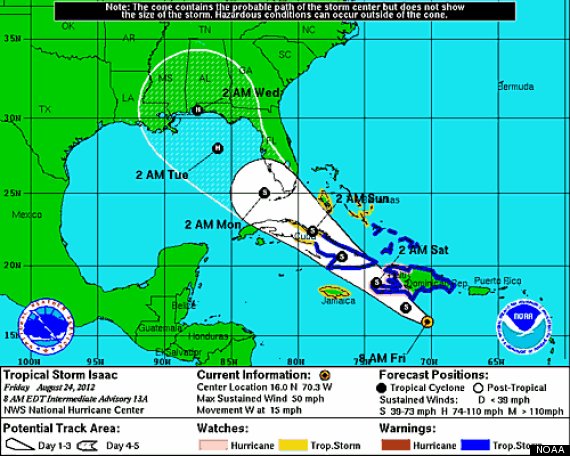 BEFORE YOU GO
PHOTO GALLERY
Top 10 Costliest U.S. Hurricanes