Yayoi Kusama has certainly been upholding her moniker as the polka-dotted queen as of late, imposing her reign of fantastical dots on New York these past few months. She has a retrospective currently on view at the Whitney Museum of American Art, a collaborative fashion line with Marc Jacobs selling at NYC's Louis Vuitton boutique, and now one of her bespeckled paintings is set for the auction block at Christie's, poised to fetch an estimated $400,000 to $600,000.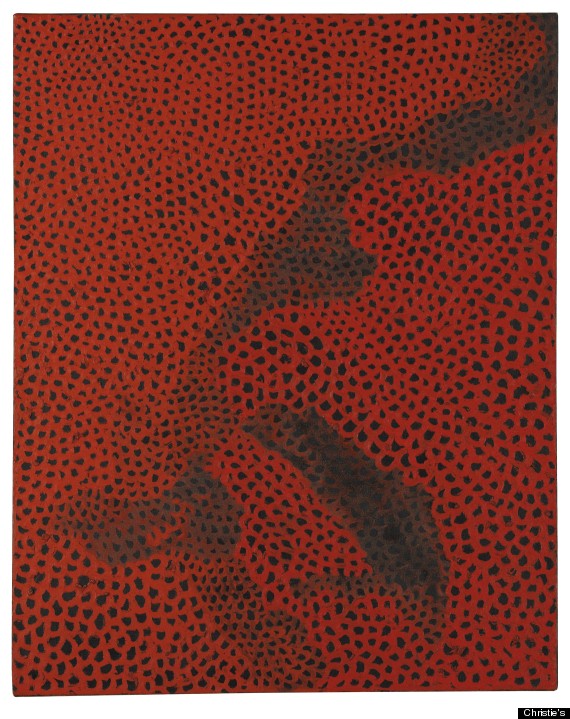 Yayoi Kusama's "Red Nets, No. 19"
The high-priced piece is "Red Nets, No. 19," created by Kusama in 1960. A swath of swirling red and black dabs, the painting is an early example of her "Infinity Net" series -- paintings that helped catapult Kusama into the upper echelons of post-war artists. The hypnotic composition of the piece is typical of the Japanese painter's ad finitum style, creating a busied design on canvas that swallows the viewer as they gaze into its depths.
Commenting on the lure of Kusama's "Red Nets," co-head of Christie's September's sale, Charlotte Perrottey stated in an e-mail to The Huffington Post: "Kusama's painting is quietly seductive and bold. And with a self-assuredly independent and elegant economy of means she simultaneously masters and challenges both of the uber-mid-century art movements: Abstract Expressionism and Minimalism."
The painting is part of Christie's "First Open" sale of post-war and contemporary art scheduled for September 19th. The sale will offer a selection of approximately 200 works of fine art, including major works by emerging players and lesser-known pieces by established artists like Louise Bourgeois, Cindy Sherman, Yoko Ono, Nan Goldin, Sharon Lockhart and Helen Frankenthaler. As the list of names indicate, the sale focuses on creations from female artists, though offerings from Alexander Calder, Jean-Michel Basquiat and John Baldessari represent just a few of the famous male artists also featured. "The selection of strong female artists was not intentional but became apparent as the sale was being compiled," wrote Perrottey.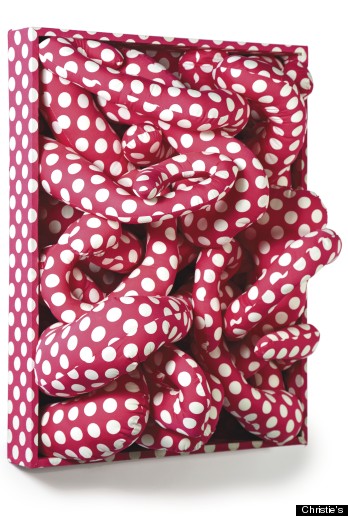 Yayoi Kusama's "Wave of Sea"
Kusama's "Wave of Sea" (1996) will also be up for bid, estimated to sell between $60,000 and $80,000, as well as an untitled spray enamel on paperboard piece created in 1978 and estimated to fetch between $8,000 and $12,000.
Let us know what you think of the pricey masterpiece in the comments section. Would you place a bid on "Red Nets, No. 19?"
BEFORE YOU GO