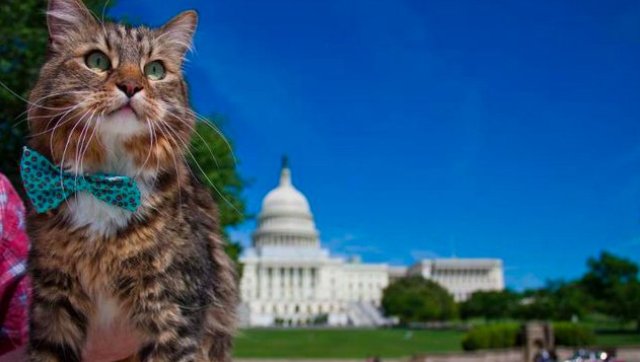 We've already got a cat running for U.S. Senate. Why not give felines a place to recreate, not just legislate, in the District?
DCist's Martin Austermuhle brings news that while overseeing the reopening of a dog park in D.C. on Thursday, Mayor Vincent Gray, quite likely facetiously, raised the possibility of cats getting their own play areas in the nation's capital:
"I'm not a dog owner anymore," Gray admitted in remarks at the ceremony. "I used to have two dogs. They now have gone on. But I do have a cat, and we have no cat parks...yet."
Cat parks!
Austermuhle sounds dubious:
[E]very now and then I see a cat-owner towing around their feline friend on a leash. The cats rarely look happy to be outside, much less being walked around on a leash.
But cat parks wouldn't have to be outside. Conceivably, Japanese-style cat cafes -- basically indoor cat petting zoos, with coffee -- could work in the District. This idea has already spread to Austria. A BYOK (bring your own kitteh) version, Meow Mix Café, popped-up in New York eight years ago. Why not have indoor cat play spaces in D.C., too?
And we already have precedent for cats who enjoy a sociable stroll. Recall Harold the cat, who happily struts around Old Town Alexandria.
In short: Cat parks, not the Mayor's worst (facetious) idea?
Let's revisit Old Town Alexandria's Harold the cat and his people, Sarah Howell and her husband Jeff Jones:
BEFORE YOU GO