Emily Maynard seemed as if she was living out a fairytale after becoming engaged to Jef Holm, her final "Bachelorette" pick. But when rumors surfaced claiming that Maynard had cheated on her fiance, the fairytale began to crack. Now, the fantasy is about to shatter with Holm's own brother confirming the rumor is "100% true."
Us Weekly's cover story blazoned the allegations under the title "Emily Caught Cheating!" with a story detailing how Holm found texts and photos from another man on Maynard's phone.
Holm's brother, Mike, has confirmed to Us Weekly, which originally cited unnamed sources, that the story is accurate.
"I can tell you that it's all 100% true," he told the magazine. "I was there and I heard the fight and watched the whole thing go down, Emily leaving and everything. I love my brother very much and, like the rest of our family, I just want him to be happy."
Adding, "We all love Emily, too. Mistakes happen, we all get that. I hope they can work it all out, but as far as your story goes, it's all true."
Reality Steve, otherwise known as the infamous "Bachelor" and "Bachelorette" spoiler Steve Carbone, claims to know who Maynard's mystery man is:
The guy who Emily was texting and will be revealed next week Im hearing is Kristin Cavallari ex, former AZ/HOU & now OAK QB Matt Leinart

— RealitySteve (@RealitySteve) August 23, 2012
Leinart was linked to Cavallari back in Sept. 2010.
So what happened with Maynard and Holm?
Allegedly, when the 26-year-old and her daughter, Ricki, went to Pawleys Island, S.C., to join Holm's family for a beach vacation, things turned sour once Holm found some incriminating things on Maynard's phone.
"There were texts and pictures: 'Let's do this and that to each other,'" a source told Us Weekly, according to WetPaint. "Jef and Emily went into a bedroom and were yelling. He said 'you've been f*cking cheating on me for months!'"
Maynard reportedly tried desperately to apologize, but Holm told her to "pack her sh*t and get the f*ck out."
When the story first broke, without Holm's brother's commentary, the couple denied the cheating allegations.
"It's one hundred percent not true," Maynard told People magazine, with Holm adding, "It's funny to me. We were in a gated community in a private home with just my brothers and sisters. It's just bogus a 'source' would [say] we were fighting. None of that is true."
On Thursday, Holm sent a cryptic tweet referencing fame-seeking family members.
It's crazy what people will do, even family members, to see their name in a magazine.

— Jef Holm (@jefholm) August 23, 2012
Whether or not this is another denial from Holm is unclear.
The seemingly happy couple, who got engaged on the June finale of ABC's "The Bachelorette," just returned from a trip to Africa, where the two were visiting wells constructed by Holm's company, People Water.
LOOK: Us Weekly's cover alleging Maynard cheated on Holm.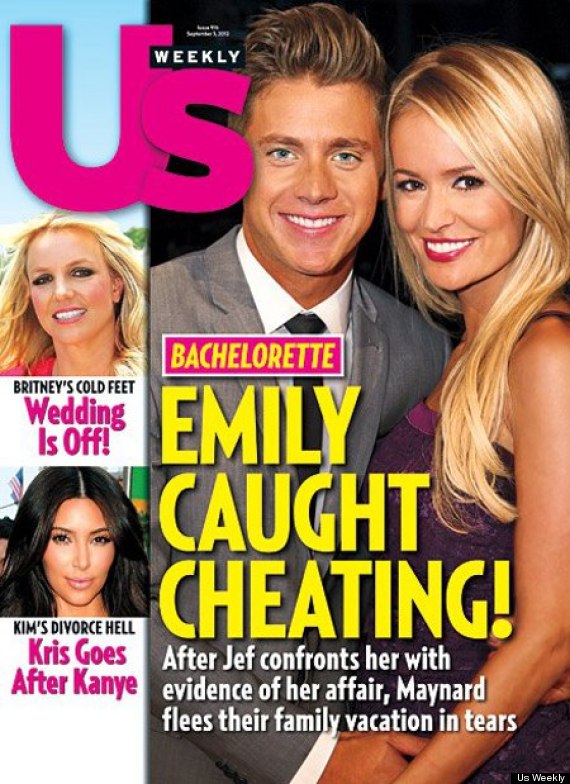 BEFORE YOU GO
PHOTO GALLERY
The Other Man