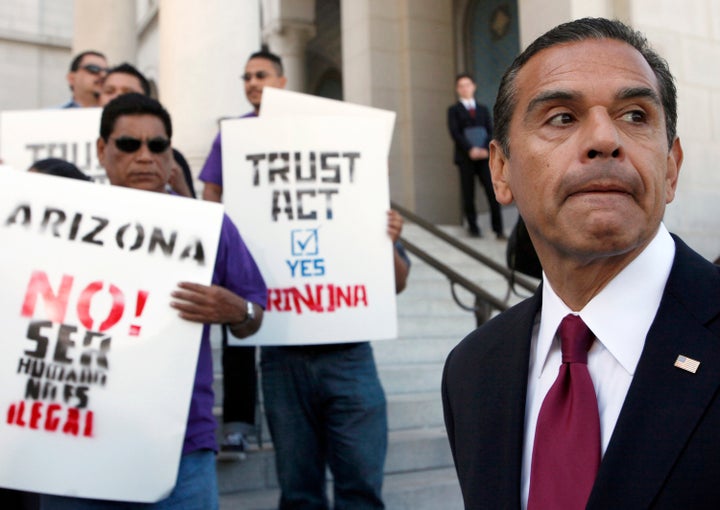 WASHINGTON -- A bill that would drastically reduce California's participation in a key immigration enforcement program passed through the state Assembly Friday and will now head to the desk of Democratic Gov. Jerry Brown.
Under the bill, called the TRUST Act, California would no longer cooperate fully with Secure Communities, an Immigration and Customs Enforcement program meant to net criminals who are undocumented immigrants. Secure Communities hasn't worked as hoped by officials in California and elsewhere, and the California is trying to mitigate the negative effects of the program, including high costs and concerns that it prevents immigrants from coming forward to report crime.
The TRUST Act would mandate that California law enforcement offices ignore requests from ICE to hold immigrants they otherwise wouldn't. Secure Communities uses fingerprints taken upon arrest to find undocumented immigrants. When there is a match, ICE asks officers to hold the immigrant for two days -- but that often is extended.
A recent report based on data from the Los Angeles Sheriff's Department found immigrants were held based on ICE requests for about 20 days longer than was typical, at a cost of more than $26 million a year.
The TRUST Act passed through the Assembly in May, but came back for a final vote after it passed the Senate with some amendments. The Assembly approved it Friday in a 48 to 26 vote.
It's not yet clear, however, whether the bill will become law. Brown hasn't given any indication about his views on the matter, and his office declined to comment Friday since the legislation is not yet on his desk.
Other California Democrats are more vocal in their support of the TRUST Act. Los Angeles Mayor Antonio Villaraigosa repeatedly spoken out about the need for the bill, and told HuffPost in an interview earlier this month that he hoped the program would be reformed nationwide to match the bill's changes.
"When Secure Communities was first established, I thought it was established on those grounds" targeting felons, he said. "As time went on, we've taken the position that it hasn't been working the way it was proposed."
Assemblyman Tom Ammiano, who first introduced the TRUST Act, applauded the passage of the bill.
"This is a bill that speaks to humanity," he said in a statement. "It prevents unjust treatment of productive Californians, while allowing local law enforcement to continue to focus on dangerous criminals."
BEFORE YOU GO
PHOTO GALLERY
Controversial Immigration Laws