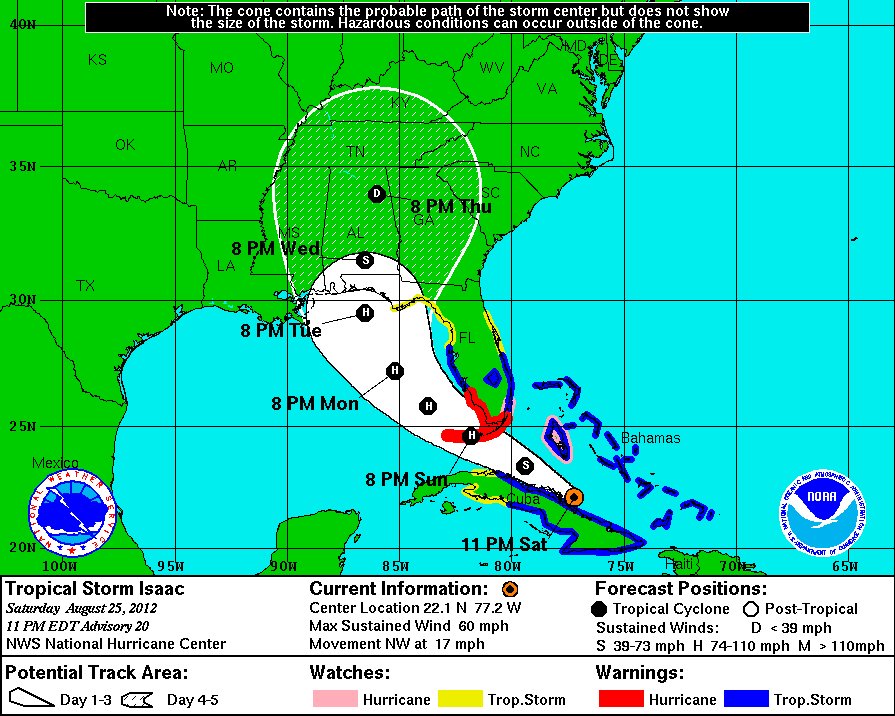 Tropical Storm Isaac is expected to be at hurricane strength when it reaches the Florida Keys Sunday night, according to the National Hurricane Center's 11 p.m. advisory.
UPDATE: VIEW SUNDAY'S FORECAST INFORMATION HERE.
Florida Governor Rick Scott declared a state of emergency Saturday afternoon and GOP officials decided to delay the Republican National Convention.
Forecasters said the storm should intensify over the Florida Straits before heading through the Keys toward the southwest corner of the state on Sunday, putting much of southern Florida on the storm's wide and angry northeast side.
A tropical storm warning has been extended into the Florida Panhandle while a hurricane watch is now in place for the west coast south of Bonita Beach. A hurricane watch was earlier issued for Miami-Dade County, where public school officials canceled Monday classes as a precaution (scroll down for preparation recommendations).
Isaac still boasted maximum sustained winds of 60 mph late Saturday night. Officials said the storm was churning northwest at 17 mph and should pass just north of the central coast of Cuba tonight.
The National Weather Service cautioned against concentrating on Isaac's exact path: strong tropical storm-force winds now extend outward up to 205 miles from its center, so much of South Florida should see heavy rains and will likely experience flooding.
Projected rainfall over the next 72 hours, according to the National Weather Service's Hydrometeorological Prediction Center: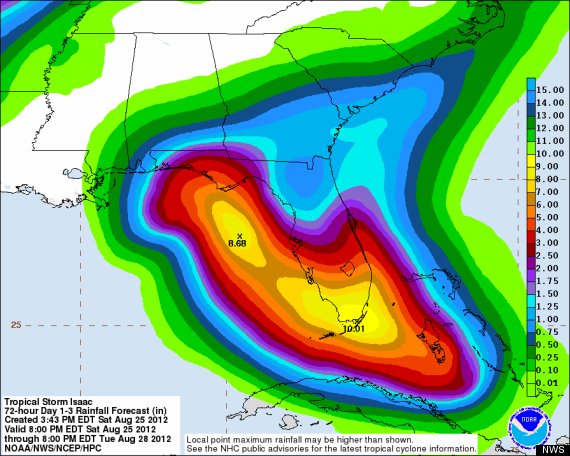 As Miami-Dade, Broward, and Monroe Schools canceled classes for Monday, the Miami-Dade County Emergency Operations Center urged residents to closely monitor the storm and complete hurricane preparations:
Gather your hurricane supplies now if you have not already done so. You should have three days worth of supplies, such as non-perishable food and water, for each person in your household.
You should begin putting up your hurricane shutters now.
Fill your vehicle's gas tank with gasoline. If you fill extra gas containers with gasoline, make sure you store them in a safe area in your home.
Verify if you live in an evacuation zone and if you do make plans to leave should an evacuation order be issued. Miami-Dade evacuation zone maps are available on our Web site www.miamidade.gov/emergency.
You should know that County government does not recommend that residents evacuate outside the County.
Your home, yard and construction debris should be properly secured. Any objects that hurricane winds could blow about should be tied down or brought indoors (garbage cans, patio furniture, garden tools, toys, etc.).
Do not trim trees or shrubs at this time. Solid Waste has discontinued trash and recycling pick-ups until further notice.
Miami International Airport remains open but many airline carriers have canceled or will cancel flights. Travelers should contact their airline carrier to confirm flight information.
Metrorail, Metrobus and Metromover will continue to operate until further notice.
Private businesses are urged to send employees home immediately.
Public marinas are closed.
If a boil water order is issued, boil the water for one minute before drinking it.
This post will be updated throughout the day as NHC forecasts are released.
PHOTO GALLERY
Tropical Storm Isaac Heads To Florida
BEFORE YOU GO