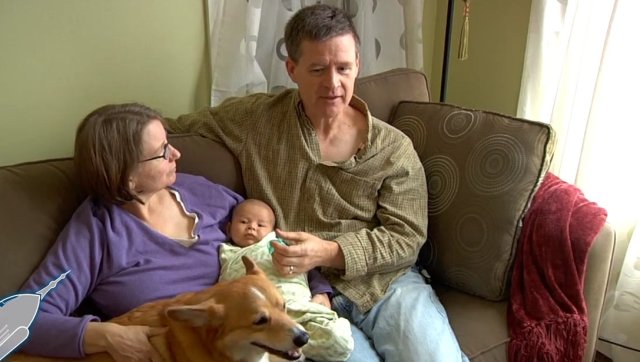 For 40 years Karl Kesel has been collecting comic books. Now, the well-known DC and Marvel Comics writer/inker, is selling everything to embrace the next chapter in his life -- fatherhood.
The Oregonian reports that Kesel is selling his collection in order to pay for the fees and medical bills that came along with the adoption of a 15-week-old baby who was born addicted to heroin.
Isaac, the baby adopted by Karl and his wife Myrna, spent the first five weeks of his life in withdrawal from heroin and methadone. His medical bills total $67,000, in addition to the $25,000 cost of the adoption itself. The couple isn't sure how much of his staggering medical costs will be covered by Myrna's insurance, according to this video by Blastoffcomics.com.
The Kesels are older parents. Karl is 53, according to the Oregonian, and the decision to adopt a baby exposed to drugs in the womb came after two years of waiting to be picked for adoption.
The couple spent the first three weeks of the baby's life by his side at Portland Providence Medical Center -- Isaac was suffering from painful withdrawal symptoms.
"We pretty much held Isaac all the time," Myrna told the Oregonian. "What calmed him the most was to be held."
But to defray costs, Karl has to sell the comics he's collected since he was a child. "It's so touching to me that he's willing to sacrifice something he loves so much to help us have a family," Myrna says.
Though Karl is more than willing to sell his collection, others don't want to see him part with it. Reddit user Razorsheldon read about the Kesels' story and has launched a fundraising campaign.
"Why not start a fundraising campaign to buy as many of his comics as we could so we could give them right back to him? I have no lofty expectations for this endeavor, but I thought even purchasing one comic would send the right message that there are people out there that are grateful that people like Karl and his wife Myrna exist to make this world a better place," he wrote.
Razorsheldon has set up a fundraiser for the Kesels on Crowdtilt, with the goal of reaching $5,000 in the next five days.
H/T: Reddit
Watch a video of the couple discussing the adoption and subsequent decision to sell Karl's comics below:

BEFORE YOU GO