We have encountered very few significant others, boyfriends and husbands that care (or can even tell) whether their girl is sporting the latest Essie or OPI nail polish. However, we do acknowledge those guys out there who speak up about damn near dangerous trends like stiletto nails. We've taken their points (no pun intended) very seriously, and are making a real effort with this cool manicure.
Samantha of The Nailasaurus has convinced us to get our game on with PlayStation-inspired DIY nail art. We love how the iconic geometric symbols pop against short black nails. And we're pretty sure our guy will tell his friends about this mani -- after kicking back a few drinks. Scroll down for the step-by-step tutorial.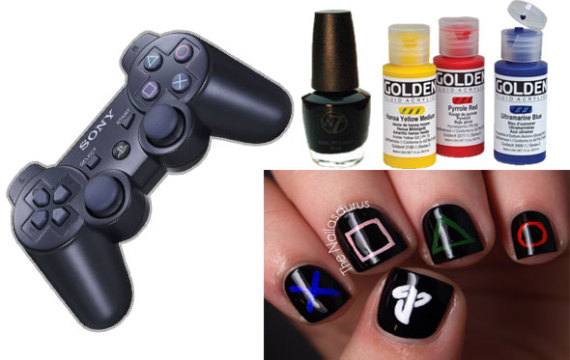 Photos: PlayStation 3 Wireless Sixaxis Controller; W7 black nail polish; Golden Fluid Acrylics; The Nailasaurus' PlayStation controller-inspired DIY nail art.
Step 1: File nails into desired shape, then apply a base coat.
Step 2: Paint on two coats of an opaque black nail polish, allowing enough dry time between each application.
Step 3: Take a fine striper brush, dip it into the acrylic paint and draw on the controller action symbols--a blue "X," pink square, green triangle and red circle.
Step 4: To create the PlayStation logo on the thumb, first paint on an open "P" and surround it's bottom half with two tilted arches.
Step 5: Finish the design by sealing it with a fast-drying top coat.
Meanwhile, find out how to get the perfect lines with our roundup of DIY nail art tools.
Click through the slideshow below for more DIY nail art.
PHOTO GALLERY
DIY Nail Art
BEFORE YOU GO