The cover of the New Yorker's current issue takes on the carefully-crafted public image of presumptive GOP presidential candidate Mitt Romney and his running mate, Rep. Paul Ryan.
The cover, illustrated by artist Barry Blitt and appropriately titled "Bromance," features a series of drawings depicting both GOP candidates in uber-friendly situations. Blitt drew a number of illustrations, six of which were selected for the cover.
Referring to media portrayals of Romney and Ryan on the campaign trail, Blitt said, "For all the forced bonhomie you see in campaign-stop photos of these two, they look about as comfortable to me as an anxious father and his new, soon-to-be son-in-law."
On the cover, Romney and Ryan are shown shirtless working on a car together, sipping from the same milkshake, and energetically embracing one another from behind a podium. Another image depicts Ryan reading Romney a bedtime story, and giving the presumptive GOP presidential candidate a piggy back ride.
During the GOP primary, Blitt illustrated the New Yorker cover ahead of Super Bowl Sunday, in which President Obama was shown watching a football game with then-GOP candidates Newt Gingrich and Romney.
Blitt is also responsible for the highly controversial 2008 New Yorker cover that portrayed then-Sen. Obama and his wife as Osama Bin Laden-loving flag burners.
PHOTO: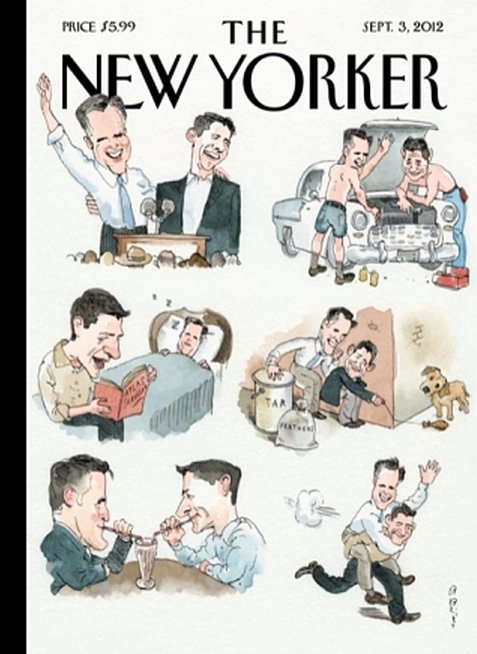 BEFORE YOU GO
PHOTO GALLERY
Media Coverage Of Paul Ryan Pick