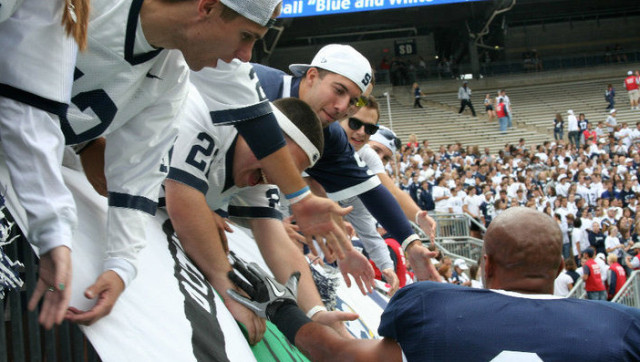 Penn State University students will no longer join an off-key, shouted chorus of 'Sweet Caroline' at sporting events.
The Neil Diamond song (apparently some kind of paean to a young Caroline Kennedy?) was deemed objectionable because the lyrics "touching me, touching you" struck a bit too close to home after the Jerry Sandusky sex scandal shocked Penn State earlier last year, the Altoona Mirror reports.
The absence of "Sweet Caroline" won't be the only thing different at Beaver Stadium this year. Uniforms will also change rather dramatically. A new coach was hired-- Bill O'Brien from the New England Patriots-- and over nine players left for other schools after the NCAA announced over $60 million dollars worth sanctions against Penn State in July.
Sandusky, a former defensive coach at Penn State, was convicted of 45 counts related to child sexual abuse in June. In July, an independent report run by former F.B.I. director Louis Freeh claimed that former coach Joe Paterno, former athletic director Tim Curley, former senior vice president Gary Schultz and former university president Graham Spanier were involved in a cover up of Sandusky's activities and exhibited a "striking lack of empathy" for his victims.
"We've got to show people that the culture is changing, the culture has to change," O'Brien told the Boston Globe.
Penn State, however, had another explanation for why Sweet Caroline was not in their song roster this year.
Penn State's Associate Athletic Director of Business Relations and Communications, Gregory J. Myford, told USA Today:
The music changes up every year, both recorded and Blue Band, while some of the staples remain in place.

Sweet Caroline has been brought up in recent years as to whether or not it should remain a part of the playlist. We hear from fans each year on whether or not we should continue it, given that it happens to be played in so many other professional and collegiate venues and has no real origination here at Penn State.

Although the lyrics were brought up and discussed, to say the song was "banned" because of the lyrics would not be accurate. It simply became easier to rotate out in order to try something else. All part of the process of keeping our fans entertained while keeping what happens during the game fresh.