CORRECTION: A Facebook spokesperson told The Huffington Post that Detlor was previously the oldest known registered Facebook user, although there are now other people her age and older who are registered Facebook users.
Based on the caption of a photo posted to Facebook COO Sheryl Sandberg's page, an earlier headline of this story identified Florence Detlor as "the world's oldest registered Facebook user."
Previously:
In her 101 years of life, Florence Detlor has probably visited a lot of interesting places, but now she can add one more to the list: Facebook's Menlo Park, Calif., headquarters.
On Monday, the world's oldest registered Facebook user got to visit the headquarters of the world's largest social network, where she posed for a picture with founder Mark Zuckerberg and COO Sheryl Sandberg.
"Honored to meet Florence Detlor, who at 101 years old is the oldest registered Facebook user," Sandberg wrote when she posted the picture. "Thank you for visiting us Florence!"
SCROLL DOWN FOR PHOTO
According to her Facebook page, Detlor, who lives in Menlo Park, graduated from Occidental College in 1932 and has been a Facebook user since Aug. 19, 2009.
"The Grandmother of Facebook," as some have taken to calling her, according to the New York Daily News, is part of a growing group of users.
A recent report from the Pew Internet & American Life Project said that more than half of all adults who are 65 and older use email or the internet. Of those seniors going online, one third of them are using social networking sites.
LOOK: Florence Detlor with Sheryl Sandberg and Mark Zuckerberg: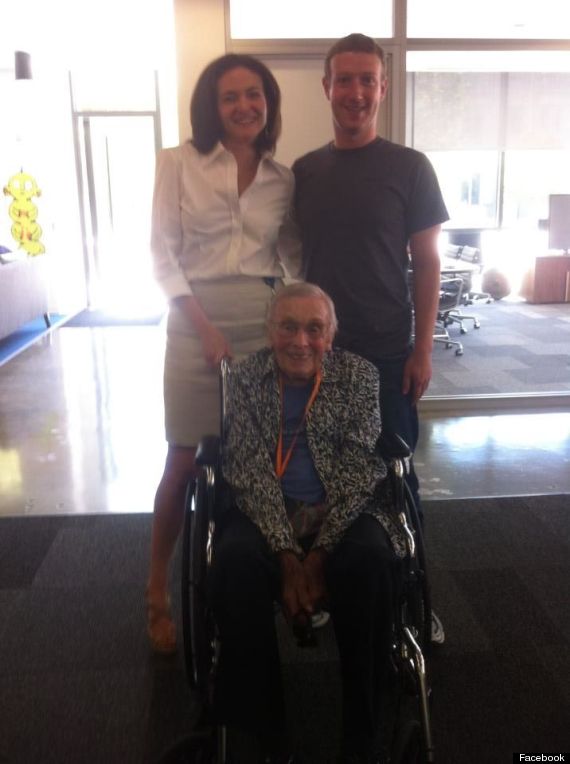 CORRECTION: An earlier version of this post incorrectly stated that Detlor attended Claremont McKenna College. According to her Facebook page, she went to Occidental College.
[h/t Digital Life on Today]