Right now Tracy Reese is gearing up to present her Spring 2013 collection at New York Fashion Week-- only 10 more days -- but not before she gives her style-craving devotees a little taste of what we can expect.
Reese, one of Michelle Obama's go-to designers, is known (and loved) for her feminine frills, pretty prints and darling details. And judging from the sketch she released, illustrating a look from the upcoming collection, Reese is on track to steal our hearts again.
For Spring 2013, Reese draws inspiration from the punchy landscape paintings by artist David Hockney. Vibrant greens are anchored by cool blues, lilacs, tangerines and neutrals. Furthermore, the collection's playful proportions and rich textures are just what every gal needs to create a hard-working and fabulous wardrobe.
"I played with the juxtaposition of organic and technical, soft and structured and sporty and feminine for an unexpected and refreshing collection," said Reese in a press release. "A quilted silk jacket in pert, layered over a black burnout gauze shirt and a mentholescence stretch linen trouser, and paired with fringed sandals and clutch, creates an effortless look that is sophisticated yet relaxed."
Check out the sketch from her Spring 2013 collection. What do you think?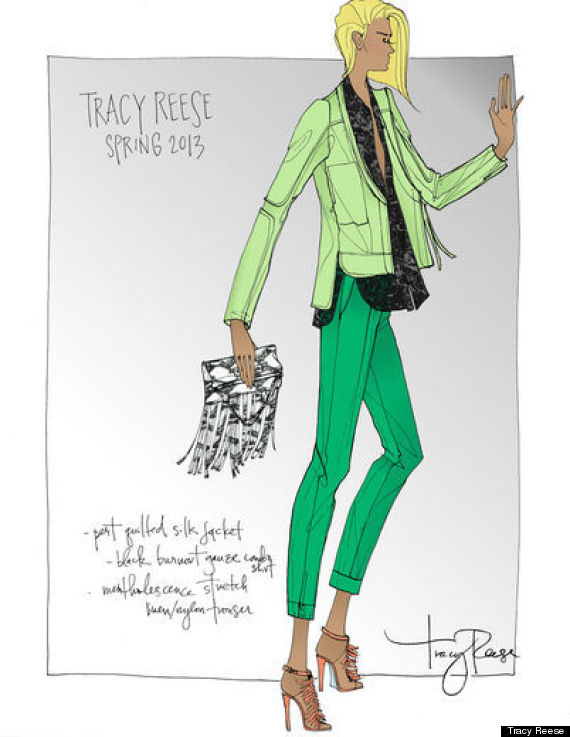 Here's a look at Tracy's beautiful designs from this past season and the awesome celebs that attended the show.
PHOTO GALLERY
Tracy Reese Spring 2012