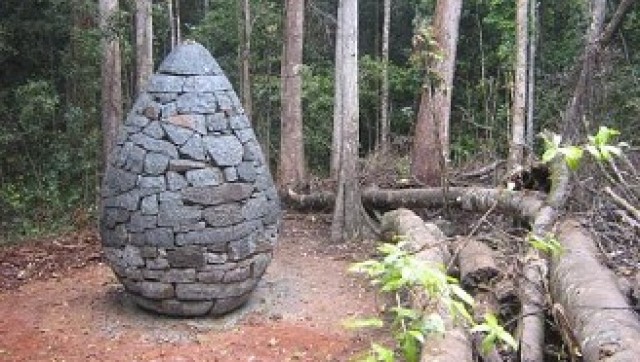 In theory, great art is priceless. In reality, it gets a little more complicated. A recent work of art in Australia by environmental sculptor Andy Goldsworthy has been ruffling some feathers in due to its high price tag.
Called "Strangler Cairn," Goldsworthy's 3.7 meter sculpture for the Conondale Range Great Walk area outside of Brisbane is composed of hundreds of hand-cut granite and slate, shipped from a local quarry. The artist planted a strangling fig sapling inside the egg-shaped sculpture, which eventually will overtake the objet d'art. Arts Queensland posted a video in which Goldsworthy describes how his sensitive sculpture mimics the beauty and violence in nature. "Sculpture is not always made gently," he says, explaining his inspiration for the project.
So what's the growing rate for an ephemeral meditation on the tension tangible in natural forms? About $700,000, a figure which some are saying far too high.
The Courier Mail is leading the anti-strangler party, unenthusiastically referring to the artwork in question as an "egg-shaped pile of rocks." The paper then breaks down the $684,000 (AUS) ($710,779 USD) budget behind the work, commissioned by the Department of Environment and Resource Management, Queensland Parks and Wildlife Division. Of the sum total, $330,000 went to the artist while the rest went to production expenses, including $50,000 to airlift the piece to its remote locale.
Art + Place calls the location "a not-to-be-missed attraction." Its remoteness creates an uninterrupted viewing experience of the space where nature and art become inseparably tangled. Yet it also means fewer people will get to see the work, being a two-hour drive or four day walk from Brisbane.
But is this sculpture a worthwhile use of taxpayers' dollars? Listen to Goldsworthy describe the piece below and let us know if you think the art is worth the price.
Andy Goldsworthy - Strangler Cairn - Conondale Ranges from Arts Queensland on Vimeo.
BEFORE YOU GO