It was a no-brainer.
With approximately 1 in 6 residents on food stamps -- increasingly, children -- Florida is struggling with a deep-rooted poverty problem tied to its low rankings in nearly every indicator of child well-being, including teen pregnancy, low birth weight, high school dropout and child abuse rates.
The number of babies exposed to prescription drugs had rocketed 388 percent since 2010. And though Healthy Start programs helped cut the state's infant mortality rate 33 percent since 1990, some stubbornly poor counties were still in double digits.
And at this most desperate moment, there was an opportunity to implement evidence-based, cost-effective programs proven to improve the health and development of at-risk children: the federal government was gifting Florida $31.3 million in total grant funding for 5 years of targeted home visitations, no strings attached and no match required, from its Maternal, Infant, and Early Childhood Home Visiting (MIECHV) Programs.
After a thoughtful, year-long state-wide comprehensive needs assessment, five local Healthy Start organizations were awarded funds in September. The most vulnerable families were registered, professional nurses, social workers, and teachers were hired, and by January 1 the programs were up and running: Pinellas County's Healthy Start set out to help 100 families with children exposed to substance abuse; Putnam, Bradford, and Alachua focused on school readiness and parenting skills; Duval deployed nurses to nurture healthy pregnancies and economic self-sufficiency; and Escambia expanded its Healthy Families program to prevent child abuse and neglect.
"If I didn't have the program, I would be homeless with a premie," 21-year-old Pinellas resident Kimberly Dudley, now clean from a methadone addiction, told the Tampa Bay Times. Taxpayers would reap the benefits: for every dollar invested in a program like Duval's, up to $5.70 is returned to society in the form of reduced government spending like food stamps.
And then the conservative Florida legislature rejected the following four years of funding, because the grant was provided under the Affordable Care Act -- also known as Obamacare.
WHAT FLORIDA GAVE UP
"Poverty is the challenge that underlines almost every problem we're dealing with in human services," Carol Brady, Executive Director of the Northeast Florida Healthy Start Coalition, told HuffPost. "To stick a baby in a NICU or get prenatal care, you're just dealing with symptoms. We were talking about doing more than just setting up a clinic -- we were talking about a program where the mother's life looks different, the family's life looks different, and the child's life looks different."
Brady's MIECHV–funded nurse-family partnership –- a "nice overlay" to current Healthy Start programs -- sends professionals into the homes of 100 of the most vulnerable first-time mothers in the Jacksonville area, where 32.4 percent of children are helped by food stamps and military families are given priority to participate. Such home visits, which are entirely voluntary and done at the request of expectant mothers, address everything from childbirth education to quitting smoking or drugs to violence to a job search or counseling.
Results of visitation programs, according to Florida State University's Center for Prevention and Early Intervention Policy, are certain. Among findings:
Home visiting can reduce the number of premature or low birth weight babies, each of whom costs at least between $28,000 and $40,000 in medical and other care.
A year of care for an abused or neglected child costs the state $68,797 – circumstances prevented in 98 percent of the high risk families served by Healthy Families Florida and done so at a cost of only $1,625 per child.
Each high school dropout is a $260,000 burden in lost earnings, taxes, and productivity, but according to CPEIP home visits assist teen parents in finishing school and postponing additional pregnancies, helping stop the cycle of poverty and government dependence. 73 percent of unemployed HFF participants found work before leaving the program.
"The research is irrefutable. It's overwhelming," the Center's director, Dr. Mimi Graham, told HuffPost. "It saves an enormous amount of taxpayer money by helping families to get out of poverty and helping kids be successful in school."
Brady says 9- and 10-year studies have also shown that children whose families participated in home visiting have less involvement with the criminal justice system.
"The program is not only to help them with immediate needs, but to bend the curve on where they're going to end up," she explained. "The legislature and the most conservative legislators should love this program... You want to have a baby who's now in a different environment than he would be, and as a result he's not going to be in this program later."
In nearby Putnam County, where a 144-page needs assessment led to a Parents As Teachers visitation program, about half of all children -- 49.73 percent -- are helped by food stamps.
"They're at the bottom of the barrel," said one advocate.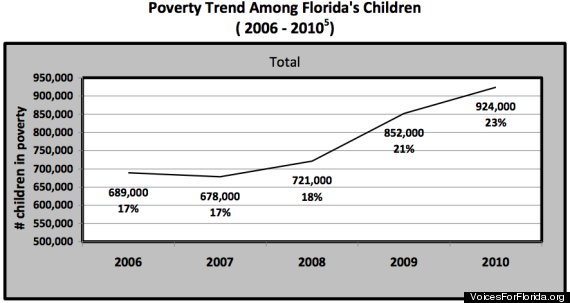 (Source: Voices For Florida, 'The Well-Being Of Florida's Children')
HOW "HYPOCRISY" HAPPENED
The rise and fall of the critical new home-visiting programs began as trickily as it ended. The legislature initially refused the grant in July 2011, then agreed to accept only after learning it was a requirement to apply for money they really wanted: a slice of the Department of Education's $100 million Race to the Top competition for early childhood education.
Lawmakers begrudgingly agreed to accept the first year $3.4 million "gateway" grant even as Governor Rick Scott fought the Affordable Care Act in court through Attorney General Pam Bondi.
"There were a lot of happy families," said Judi Vitucci, the director of the Pinellas Healthy Start. Her new program quickly signed up 84 families with 217 substance-exposed children in an area where, according to Dr. Graham, 1 in 20 babies -- more than 11 percent of the state's total -- is born addicted to drugs.
But Florida didn't win Race To The Top's early learning challenge, and "that really pissed them off," said one advocate. After the Affordable Care Act was upheld in court, the Florida House of Representatives refused to give the state's Department of Health authority to draw down the $4.9 million second year funding despite approval from Scott and the Senate.
"Since we are not implementing the Affordable Care Act, we opted not to do that," State Rep. Matt Hudson (R-Naples), told the Florida Independent. "If they bring it forward [again], we will reject it."
Hudson, the chairman of Florida's Health Care Appropriations Subcommittee, did not respond to a request for comment. But he previously told the New York Times he supported Florida's regular rejection of all things Obamacare: "I am not going to start implementing things that I don't believe in."
Rep. Denise Grimsley (R-Sebring) told Highlands Today in September that such "government intrusion" causes communities and church groups to "lose our compassion."
But this same legislature, however, was soon blasted as "hypocritical" for accepting Affordable Care Act funds for abstinence-based sex education. And Bondi had launched a special task force to address babies born addicted to prescription drugs even as she tried to overturn the legislation funding help for those babies in Pinellas.
"The disconnect between research, prevention and public policy is appalling in our state," Dr. Graham wrote in an an email to fellow advocates.
Making matters worse, budgets for the regular Healthy Families and Healthy Start programs had just been slashed in previous legislative sessions.
"What's not to like about them?" asked Brady. "That's getting people off welfare, having them graduate college, making them taxpayers in the future. But we're not talking about that, we're talking about, 'We don't like Obamacare.' The issues really have nothing to do with what the end goal of the program is."
Many Healthy Start staffers pointed out that Floridians are paying federal taxes, but lawmakers are blocking the dollars from returning to Florida.
"We're contributing more to the national pot of money and we're not getting it," Manuel Fermin, CEO of the Healthy Start Coalition of Miami-Dade, told HuffPost. "How do we throw away millions of dollars? How do we not accept this?"
THE FIGHT FOR FAMILIES
The regional directors are now scrambling to try to find local funding for their dangling MIECHV programs, in which Florida invested considerable financial and human resources. Closure would cost 84 jobs and cut services to 500 families.
"In Duval we have 100 families that were engaged and promised services for 2 years, and now we're high and dry," Brady said. "I wish I could figure out exactly who to blame, but I think it's just a failure of government at every level to pay attention to families who are in need of services."
Another advocate, speaking on condition of anonymity, was more blunt: "There's a real disgust for the poor."
HuffPost Live will be taking a comprehensive look at the persistence of poverty in America Aug. 29 and Sept. 5 from 12-4 p.m. EDT and 6-10 p.m. EDT. Click here to check it out -- and join the conversation.