A report released Thursday by the Center for American Progress Action Fund outlines Mitt Romney's education plan, and how the Massachusetts governor's stances on education policies have flip-flopped over the years.
"Mitt Romney has been running for president for six years, and he still doesn't have a substantial education plan," Cynthia G. Brown, Vice President for Education at the Center for American Progress Action Fund said in a statement Thursday. "It is time for him to buckle down, revise his draft, and submit a more detailed plan that America's students and voters deserve."
A central tenet of Romney's education proposal involves promoting choice and innovation through the use of vouchers that would allow low-income students and students with special needs to attend any public or private school in their state. Private schools would be required to administer state tests, but would not be held accountable for how students perform on said tests.
Furthermore, a student's ability to transfer to another public school in another district is contingent on the school in question being able to accept them.
Under his plan, Romney would also increase federal funding to and expand high-quality charter schools -- something that is on par with President Barack Obama's current plan.
When it comes to accountability, Romney would require states to grade schools on an A to F -- or comparable -- scale and continue reporting student achievement data and comparing state test results to the National Assessment of Educational Progress. The latter two requirements are already in effect, and according to the CAP Action report, are "hardly a way to eliminate differences in achievement among student groups."
Romney's proposal calls for eliminating the federal requirement that teachers obtain state certification in order to enter the classroom, and advocates turning all federal teacher programs into a block grant that states choose to receive provided they agree to a set of reforms. These requirements include establishing evaluation systems that weigh success in advancing student achievement, rewarding effective teachers and principals with additional compensation and promotion, and eliminating or reforming teacher tenure.
Again, many of these ideas -- improved evaluation systems, merit-based pay and career advancement opportunities -- mirror those of the Obama administration.
The report also takes aim at Romney's running mate. Rep. Paul Ryan's 2013 federal budget plan includes severe cuts to the federal Head Start program, which helps prepare low-income students for school. According to Secretary of Education Arne Duncan, the Ryan plan could cut as much as $2.7 billion from Title I funding for schools that serve low-income children, and as much as $2.2 billion from grants for special education.
In addition, Ryan has repeatedly voted in favor of limiting funding and eligibility for Pell grants, which provide assistance for low-income students to attend college. His proposed budget would tighten eligibility requirements for Pell grants so fewer students would qualify for them.
Romney, for his part, has said he is "very supportive" of the Ryan budget and thinks it would be "marvelous" if the Senate adopted and passed it to the president.
Check out an infographic below, courtesy of the Center for American Progress Action Fund, that illustrates Romney's shifting positions on education issues over the years: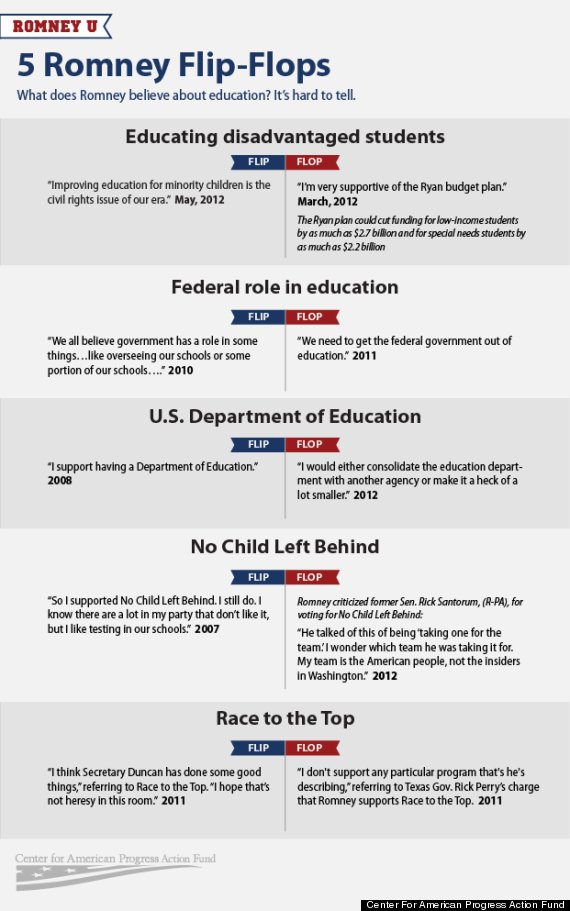 BEFORE YOU GO