By Jose Martinez, Complex Sports

The creators of the Madden franchise catch a lot of flack from NFL players. With complaints ranging from a low overall rating to poor representation of the player's build, most of the game designers' "mistakes" are unavoidable, except for the case of the Giants' Marcus Thomas. While playing Madden 13, the defensive tackle noticed a guy with the same name on the exact team he currently plays for but when he looked at the picture, the dude clearly didn't look anything like him. Hit the thumbs to see the real Marcus Thomas in the first image and the imposter in the second one.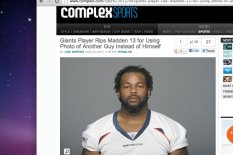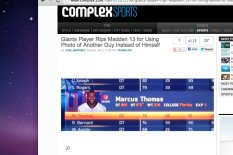 After making this discovery, the real Marcus Thomas took to his Twitter and aired out his frustrations in a series of tweets.
Eventually, the tweets found their way to a person named Donny Moore, who describes himself as the "Madden NFL Live Content Producer and Ratings Czar." He responded with the following message:
In the end, the entire situation ended with Thomas not only thanking Donny for his attention to the matter, but the Big Blue defensive tackle even dropped an "I love you" at the end of his response. The upcoming football season is already making folks happier. Welcome back, NFL!
RELATED: The Biggest Sports Fails of 2012 (So Far)

[via Shutdown Corner]