New Jersey's "Tan Mom," Patricia Krentcil, found herself in the middle of a media firestorm after she pleaded not guilty to child endangerment charges when her daughter, now 6, was discovered burnt. But now Patricia is moving on with her life, making a guest appearance in a New York drag show and even becoming the spokeswoman for a skincare boot camp.
"My life has always been like this," Patricia told me before she hit the stage at XL Club on 42nd Street in New York. "Again, it's always been my life. I come from seven kids and it's always been wild. I don't care. I think everyone should mind their own business. Oh, you're gay, I don't care -- just don't get in my face. I have done a little modeling and I don't really care about all the attention and stuff like that. I like having fun."
Patricia believes people are way too quick to judge. She couldn't care less what people say about her, she says. "People are weak," she says. "Forget that girl on 'SNL' [Kristin Wiig, who made fun of her last season]; let's go with Jojo, what's her name from the Jersey Shore? Snooki, that's it, she said, um, I forget what she said, but she's after me. If she came up to me face to face, I think we would get along, but don't make a comment about me until you know me."
Krentcil says that she's a loving mom and that her kids mean more to her than anything. She warns that we all need to be a little kinder.
"People on the street ... you walk by and they are, like, dying. You should help them. I don't care what color you are, gay or straight, just be nice. We are only here for a little time," she warns. "We could walk about of this interview and someone could kill one of us, and we don't even know it. I watch a lot of crime TV. The mother puts the kids to bed and the father walks in and kills the children; it's not cool."
As well as appearing onstage in drag shows, she has become the face of "The Skin Regime," a new book detailing the secrets of skin care.
"I do miss tanning a little. Smoking is more addictive than tanning. The last time I tanned was six months ago," she says with a little sadness in her eyes.
Alas, the performance didn't go so well. Tan Mom was escorted offstage after she appeared to have had one too many drinks. Slurring her words and screaming at the crowd, Patricia was helped offstage after knocking over her glass of wine.
FOLLOW NAUGHTY BUT NICE ROB ON TWITTER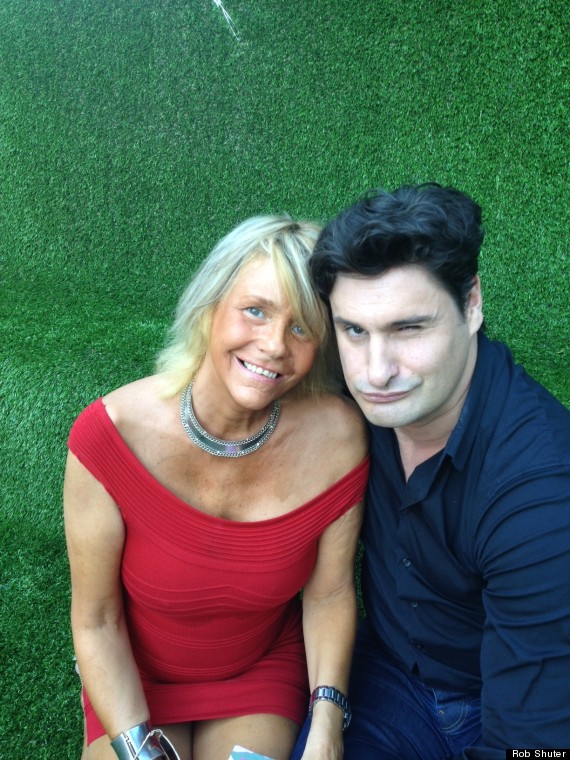 Celebrity Photos Of The Week:
PHOTO GALLERY
Celebrity News & Photos
BEFORE YOU GO