Kim Kardashian has some lofty goals.
The 31-year-old recently revealed to V magazine that she wants to see her name alongside some of Hollywood's legends.
"I think there was a quote where somebody said that reality stars will never get a star on the Hollywood Walk of Fame. So, of course I'm so competitive that I think that it would be a huge achievement and a goal that anyone would want. I would love to break that mold," she told the magazine.
Well Kim can keep dreaming, according to the Hollywood Chamber of Commerce, which is responsible for handing out stars to celebrities.
"She has not been nominated. She is a reality star. We don't do reality stars. She needs to get a real acting job then come to us," a rep for the Hollywood Chamber of Commerce told Hollyscoop.
Kardashian does have some acting under her belt, having recently guest-starred on three episodes of "Drop Dead Diva," and she has a role in Tyler Perry's upcoming film, "The Marriage Counselor." But it's also important to note that the Hollywood Walk of Fame is not nearly as prestigious as the Chamber of Commerce would like people to believe.
According to their own website, "anyone, including a fan, can nominate a celebrity as long as the celebrity or his/her management is in agreement with the nomination." If a celebrity is selected to receive a star they are then required to pay the Chamber of Commerce $30,000 -- used for the creation and installation of the star.
2012's recipients include: Rick Baker, Javier Bardem, Viola Davis, James Franco, Ron Howard and Helen Mirren for their contribution to films. Meanwhile, Simon Baker, Bryan Cranston, Ellen DeGeneres, Jane Lynch, Katey Sagal and Matthew Perry will receive stars for their contribution to television.
The Chamber of Commerce currently doesn't consider reality TV to be a contribution to television, but as Kim told V magazine, she thinks it's just going to take the industry a while to accept the genre.
"I think [reality] is still a new form of entertainment that was kind of an unexpected thing," she told the magazine, adding that it's not unlike the progression and acceptance of rap music.
"It reminds me of rap music. When rap music first came out, people were like, We don't understand this, what is this, it's just a fad. But rap music is definitely here to stay, and I think reality shows have proven they are as well. But when something is newer, people don't really understand it," she theorized for the magazine.
But it's not just a matter of taste, reports The Hollywood Reporter. A rep for the Chamber of Commerce told THR, that part of the criteria to be honored is that the recipient must have won awards such as an Emmy, SAG Award or an Oscar. Since Kim hasn't been nominated for a major award, she's not currently eligible.
There's always the possibility that Kim could one day win an award, but the rep told THR, that he couldn't say if reality stars will ever be eligible, and they aren't "on our radar right now."
Kim Kardashian may not get a star on the Walk of Fame anytime soon, but at least she isn't letting that keep her from what she does best -- tweeting photos of herself in a bikini.
On Aug. 30, she flaunted her ample cleavage to her millions of Twitter followers, posting a photo of herself before she took a late-night dip:
Night swimming instagr.am/p/O-rPiWOS-o/

— Kim Kardashian (@KimKardashian) August 31, 2012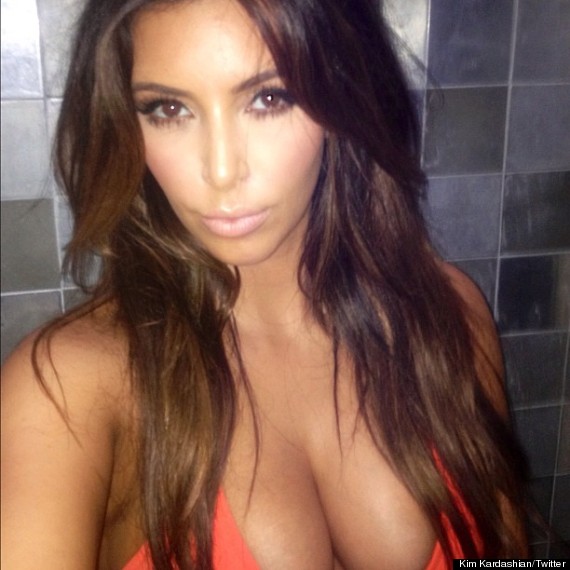 PHOTO GALLERY
Battle Of The Celebrity Cleavage
BEFORE YOU GO