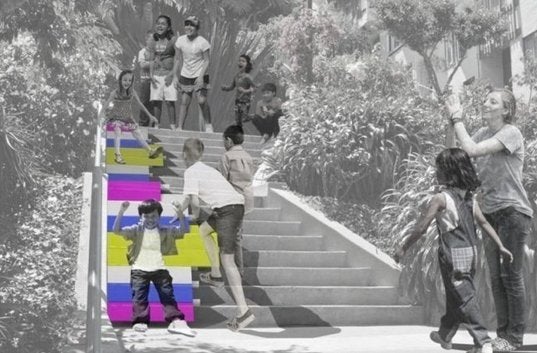 There's an old saying in San Francisco: Every time someone checks in at a parklet, an angel gets it's wings.
Full disclosure: No one has ever actually said that.
Local non-profit Gray Area Foundation For The Arts has teamed up with Intersection for the Arts, Ideo, Rebar, the 5m Project and the San Francisco Mayor's Office of Civic Innovation for a new project called Urban Prototying that attempts to marry technology and innovative public spaces.
The idea is to create a sort of competition where small groups would work to create projects spanning the divide between public space and the digital network. The mid-Market-based arts organization held a month-long call for submissions and, out of the over 90 ideas pitched, selected the most promising 19 to receive grants and be showcased at the San Francisco Street Exposition in October.
"We've been seeing a parallel between DIY urbanism and the DIY civic hacking worlds and we wanted to bring these two communities together to see what possibilities could come out of that," Gray Area's Jake Levitas told The Huffington Post. "We wanted to see what would happen if we took the software development cycle applied it to urban space."
Some of the accepted proposals include a fresh take on public urinals, a go-anywhere playground that fits in a suitcase and citywide heart rate monitor.
All the projects are open-source, and the grants have been limited to about $1,000 each. Both of those conditions were imposed in order to make neither access to information nor cost of construction a serious impediment to replicating these ideas in other cities.
"One of the reasons parklets were so successful around the world is because, from the beginning, people released information online about to build them," said Levitas. "Any of the Urban Prototyping projects that look appealing to someone in Barcelona or New York should be able to be made to happen there."
If you have a great idea for a project but missed the initial call, take heart. GAFFTA will host a three-day hackathon in late September that gives people another shot at creating the next great urban planning/digital technology hybrid.
Check out this slideshow of the selected projects:
BEFORE YOU GO
PHOTO GALLERY
Urban Prototyping