Vincent Kartheiser, best known for his depiction of ornery "Mad Men" exec Pete Campbell, has been an actor for the better part of his life. He grew up with five siblings in Minnesota and first dabbled in commercial acting as a child, eventually progressing to theater, television and film -- garnering a reputation for playing unfulfilled young men.
Now Kartheiser, known to have turned down many a project that didn't tickle his fancy, is bringing his signature brand of brood to the San Jose Repertory Theater for a production of Jonathan Marc Feldman's "Death of the Novel." He was hand-picked by the writer to play the lead role of Sebastian, a reclusive author who is tortured by a traumatic past littered with the loss of loved ones. Set in post-9/11 New York City, the play expores the personality of this once-successful artist, who has resigned himself to the confines of his apartment to avoid the whims of an exterior world he can't begin to understand.
It's a far cry from the glamorous Manhattan depicted in the Mad Men universe or the beachy setting of his recently filmed indie flick, "Beach Pillows," presenting Kartheiser with a challenge he was more than willing to accept. But that shouldn't come as surprise, coming from a Los Angeles resident who has been known to shun the excess of wealth and opt instead for simple pleasures. The actor explained to us in a phone interview what drew him to "Death of the Novel," how Mr. Campbell is Sebastian's antithesis, and how his theater role stacks up to his own mystical experience living off the grid.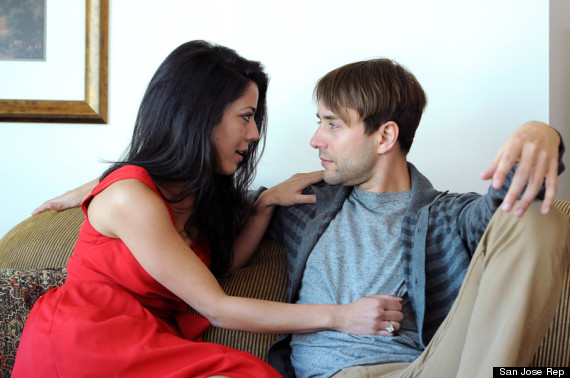 (L to R) Vaishnavi Sharma as Sheba and Vincent Kartheiser as Sebastion Justice in San Jose Rep's world premiere of The Death of the Novel. Photo: Aja McCoy.
So you are in the final week of rehearsal before "Death of the Novel" opens, right? Are you the type of person that get's anxious for opening night?
Oh, yeah, Oh, yeah. I'm definitely nervous. Oh yeah.
You've been in acting for most of your life, the nerves are just a feeling that never fades?
No, not for me it doesn't. Nope.
Well, we know the story of "Death of the Novel" is about a reclusive writer in NYC, but can you tell us a little more about the plot?
Basically, the story is: How do you live in a crazy world? I mean, how do you live in a world that is trying as hard as it can to kind of destroy things that are so much a part of our history. You know, novels and real art. Everything has been replaced -- at least in Sebastian's point of view, my character's point of view -- by cold, pre-packaged, marketed products. This Britney Spears, Jennifer Lopez-style thing. How do you live in a world where you can see through all of that. He's dealt with a lot profound loss in his life. His mother, his father, the woman of his dreams. He lived next door to the twin towers. The day they went down he was sitting there watching it happen. So he's seen profound loss and he looks at the things that we value in our society, and he says, none of this matters. None of these things that we value in our society matter and then we just die. So what's the point of putting our effort, our energy, our love, our creativity into something to give it to this world full of people who don't really care about it anyway, who don't really understand it anyway, and will eventually just die anyway.
And that's where he is. And then people begin to enter his life, specifically a woman from Saudi Arabia, who opens his eyes to the way that she sees him. Which is actually a profound truth. And he's kind of slowly pulled into this love relationship, and he begins to give himself to this person, and it begins to kind of interfere with his theory and his experience of seclusion.
It seems like his concerns are widely held issues; maybe people don't express them in the same way but we all feel overwhelmed by these things to a certain degree. Did you find yourself relating to the rants of your character?
Yeah, in some ways. I think that that level of cynicism and hopelessness is something that we can all relate to on a certain level. And I think that for people where it is an overwhelming portion of their psyche, that is committed to those kinds of feelings, I think for those kinds of people life can be very, very difficult. And it intrigued me to play a role for someone like that who doesn't allow himself to love because it's always hurt him so badly. And won't allow himself to give things to the world because the world just wants to take, take, take from him. And that's intriguing and I think it's an important story to be told.
Speaking of unconventional outlooks on life, we've read that in the past you have chosen to live off the grid a bit, even in Hollywood. [The actor once told The Guardian that he lived in a window-less bungalow with no toilet.] Is this still true?
No, not really. You know, I've gone through different phases and done different things in my life. But you know, my house is not big. I think people should try and live in homes that are reasonable for the type of home that they need to have. And I think you should try and take public transportation, if it's something you can do. You know? I do have a car, and sometimes I use it and sometimes I don't, but I've gone through different phases where I'm more off the grid. But no, I'm still a coal-burning, oil-using son of a bitch. [Laughs]
Back to "Death of the Novel." The writer, Jonathan Marc Feldman, specifically asked you to play the lead role. What made you say yes?
Well, I enjoyed his writing. And like I said before, I thought the character was a real person to, you know, exist out in the world. I wanted to give him a voice. And it's also a big challenge. It's a character that never leaves the stage. It's two and a half hours of me on the stage, theorizing and pontificating, and that's a challenge. As a human being, I think we yearn for challenges and we yearn to be in a position where the pressure is on us. And I'm no different. In this TV publicity image released by AMC, from left, Vincent Kartheiser portrays Pete Campbell, Jon Hamm portrays Don Draper and John Slattery portrays Roger Sterling in a scene from "Mad Men." (AP Photo/AMC)
Compared to your Mad Men character, Pete, it seems like a much different position to take on, especially about New York City. Pete seems to treasure the distractions afforded by Manhattan.
I think you said it perfectly. Pete Campbell wants to be part of the social world of Manhattan, he wants to be respected by people and revered by people, to climb the social latter. And this guy is the exact opposite.
Do you find it easy to access these darker sides of emotion having played Pete for these past few years?
Uh, [laughs] no. I've always found it easy to access the dark side of my emotions.
[Laughs] Alright. Well, you are also working on a film in your break from shooting Mad Men, "Beach Pillows." Of the three environments -- television, film and theater -- which do you prefer?
Well, look, every job is different. So I don't want to pick just one medium and say that's the one. There's certain theater I've done that I didn't like doing and there's certain TV that I've done that was just week after week of hell. Mad Men is my favorite project I've ever been a part of, hands down. So if I was basing it off of that then I would say television is my favorite. But theater is incomparable to describe, you know. That relationship you have with your viewers, that really ethereal and magical relationship that you create every night with a group of people.
Playing the character of Sebastian, has it inspired you to want to want to write at all?
No. Same as playing the character of Pete Campbell hasn't inspired me to be an advertising executive.
Fair enough. One last question: You've been in San Jose for some time now. Are you enjoying the town?
Well, let me tell you, I work all day long, every single day. So I've hardly seen anything. I went out one night salsa dancing though. That was kind of fun.
"Death of the Novel," directed by Rick Lombardo, runs until September 30th, 2012 at the San Jose Repertory Theater.
PHOTO GALLERY
Mad Men Season 5
BEFORE YOU GO