Despite spending the beginning of her career exclusively in wizard capes, Emma Watson has proven to be quite the style chameleon. Fluffy princess dresses? Check. Slick menswear? Check. Punky tartan and leather? Check.
Her latest transformation, however, is harder to pin down. Posing for Glamour's October 2012 issue, the "Perks Of Being A Wallflower" star is styled as... well, we can't quite tell. But there are plenty of sumptuous fall colors, a mix of heavy (plaid) and soft (lace) materials and quite a bit of skin. There are also animal ears involved, channeling one of the Plastics' Halloween costumes from "Mean Girls."
But hey, the newly styled, high-fashion Emma Watson can pull it off. She's finally begun working with a stylist, she tells Glamour, to avoid wardrobe malfunctions and "Worst-Dressed" lists:
Yeah, I have to [work with a stylist] at this point. When I was younger, I used to do it all myself, but I've had to get help because it's gotten to a stage where I can't show up in my Converses or whatever I bought from High Street. And just practically, these gowns are ridiculous. You're being photographed from every angle, so not only do you have to consider how the thing looks, but whether you're going to be able to sit in it and whether people are going to be able to see up your skirt.
We bet she's referring to that time she showed up to the "Harry Potter and the Deathly Hallows" premiere in 2011 with her wardrobe tape showing. Or maybe the time she wore a too-low top and flashed a bit of chest early in 2011. Or that time she accidentally flashed her (very tasteful, understated) panties at a "Harry Potter" premiere in 2009. As she told David Letterman about that incident, "This was a small wardrobe malfunction... at least I'm wearing underwear."
But it's all good, you guys. Now she's got a stylist... and animal ears! You can never go wrong in animal ears.
Seriously, though, check out Emma's new shoot for Glamour. Are you a fan of the mix-and-match styling? The sexy cover? The choppy hair and heavy eyeliner? See some pics below and head to Glamour.com to see more.
PHOTOS: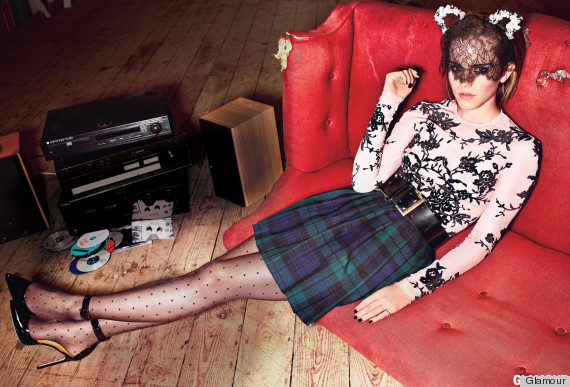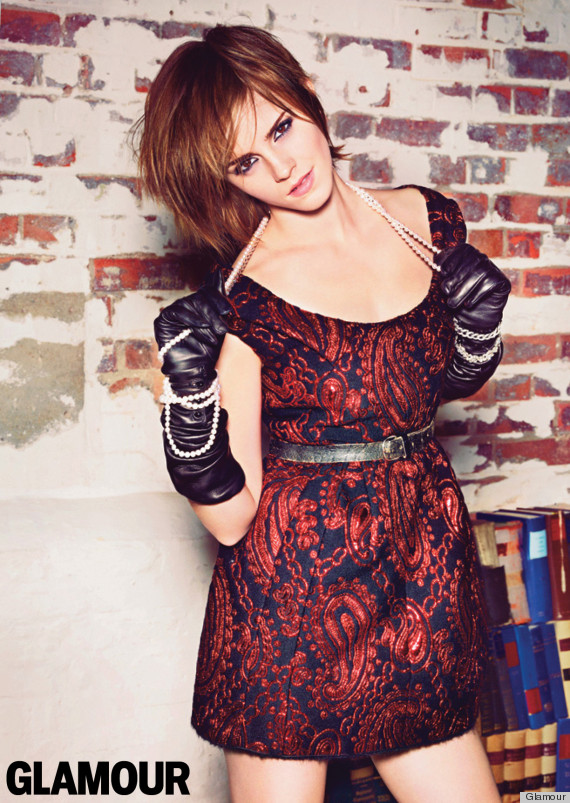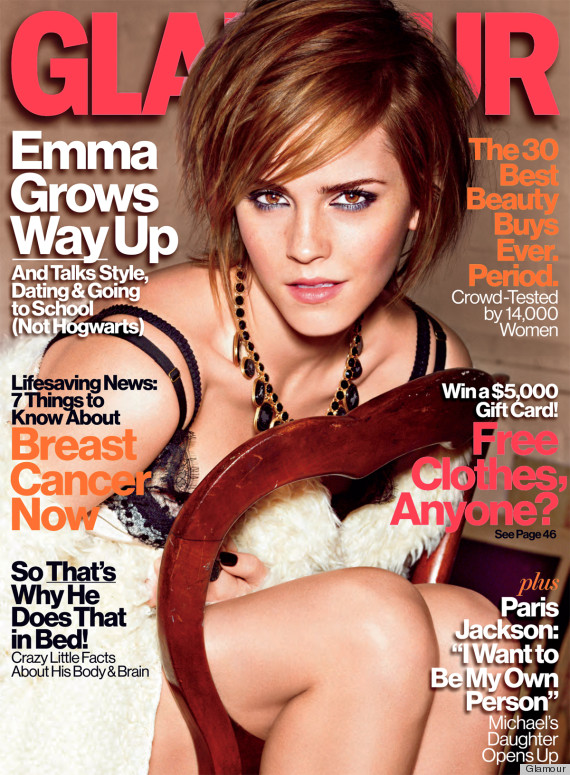 See how Emma's style has changed:
PHOTO GALLERY
Emma Watson's Style Evolution
Want more? Be sure to check out HuffPost Style on Twitter, Facebook, Tumblr and Pinterest.