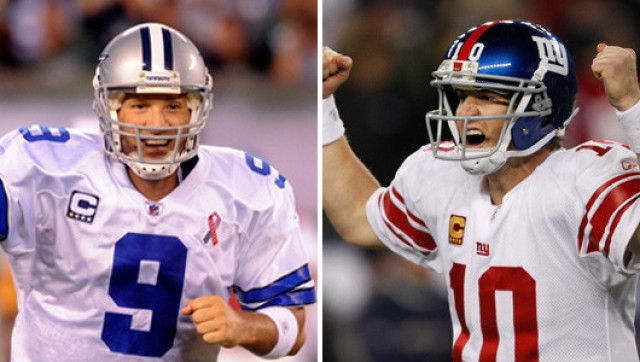 With the New York Giants and the Dallas Cowboys squaring off tonight in the swamps of Jersey, the 2012 NFL season is finally here.
It's time to reacquaint yourself with the members of the Manning family. It's also time to get back in the habit of setting your fantasy football team's lineup(s) every week. While we're at it, you can't forget to submit the picks for your weekly NFL survivor pool. With so much going on, you might want to just go ahead and notify loved ones that you'll be spending several hours on the couch each Sunday (Red Zone channel anyone?) for the next 25 weeks, give or take a playoff round. While we're marking off days on the calendar, you might as well make sure no one is expecting much from you on Monday nights.. or Thursday evening.
Because football has returned.
Welcome back, Eli. How does it feel to have more Super Bowl rings than Peyton?
Good to see you, Jerry. What was up with you rapping in that commercial?
The 2012-13 season kicks off with a division matchup between longstanding rivals. The defending Super Bowl champs welcome Jerry's very valuable Cowboys to MetLife Stadium. The Giants are 5-1 in their last six games against their NFC East rivals, and they aren't afraid to tout that fact.
"The New York Giants have been whupping his ass for a long time. I mean it has got to be tough on the outside looking in on all these championships lately," Giants linebacker Mathias Kiwanuka said last Thursday, responding a comment from Jerry Jones in which he claimed Dallas would beat New York in the season opener.
Will the Giants continue their recent domination of the Cowboys? Or will Tony Romo lead Dallas to season-opening victory on the road?
Follow our live blog for updates, commentary and highlights throughout the game and tweet at @HuffPostSports to join in on the conversation.
09/05/2012 11:48 PM EDT
@ wyche89 :

After tonight even more jacked for this season. BRING IT ON!
09/05/2012 11:47 PM EDT
@ MikeGarafolo :

Coughlin: "We had trouble stopping the slant all night. Like we'd never seen a slant before." #nyg
09/05/2012 11:47 PM EDT
@ MikeGarafolo :

Coughlin: "There won't be any more blowing smoke up (the players') rear ends." Wowzer. #nyg
09/05/2012 11:34 PM EDT
DALLAS WINS
Cowboys win 24-17. Romo and Ogletree. And Miles Austin and Dez Bryant. After the season opener, Dallas looks scary.
09/05/2012 11:34 PM EDT
Jerry Jones standing up in the box, not smiling. I'd say his facial expression was a mix of a huge relief and "Hell yeah." He looked pretty fired up.
09/05/2012 11:32 PM EDT
Dallas can now run out the clock. Giants have no timeouts. Romo kneels it on first down.
09/05/2012 11:30 PM EDT
3rd and 10
Romo delivers a beautiful pass to Ogletree on the left and falls back a few yards past the first down marker. Great play. TWO MINUTE WARNING
09/05/2012 11:29 PM EDT
3rd and 2
Murray gets to the outside and picks up the first down but a holding penalty is called on Dallas. Good call it was pretty blatant by Witten. Repeat third down. 2:11 left and that stops the clock.
09/05/2012 11:27 PM EDT
2nd and 9
Murray runs right, turns it up field and powers his way for 8 yards.
09/05/2012 11:26 PM EDT
Murray runs right for about 3 yards and NYG calls timeout.