Hillary Clinton may have been halfway around the world, but that didn't stop the secretary of state from watching her husband, Bill Clinton, deliver his speech at the Democratic National Convention on Wednesday night.
The secretary of state was in East Timor to meet with government officials of the Southeast Asian country, and, according to the Wall Street Journal, was able to watch a recording of the speech after a local press conference.
SCROLL DOWN FOR PHOTO
From the Associated Press:
Clinton said her visit, the first by a U.S. secretary of state to East Timor, was "a visible sign of our support for all that has been accomplished by the people of this nation." She and Prime Minister Xanana Gusmao enjoyed coffee produced by a cooperative that helps supply the Starbucks chain.
This is the first Democratic convention Hillary Clinton has missed since 1968, according to The New York Times, but even if she hadn't been traveling, she wouldn't have attended the convention.
CNN's Jill Dougherty notes that by law, secretaries of state are prohibited from going to party conventions.
"Officially, let me say that for decades secretaries of state have not attended political conventions because of the nonpartisan nature of our foreign policy," Hillary Clinton said on Thursday, according to the Times. "I think it's a good rule. It's one that I certainly accepted."
LOOK: Secretary of State Hillary Clinton watches her husband, Bill Clinton, speak at the DNC: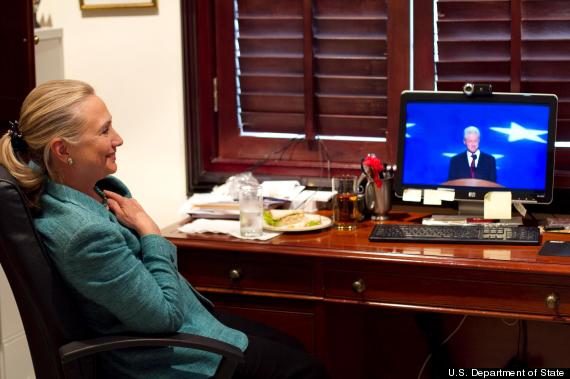 BEFORE YOU GO
PHOTO GALLERY
Obama Rocks Democratic Convention