Artist Michael Burdick had wanted to illustrate a poster for the Dally in the Alley ever since he got his first glimpse of the lively Detroit street fair in 2005. This year he finally got his chance. His poster is a barebones rendering of the Cass Corridor alley that gives the annual get-together its name.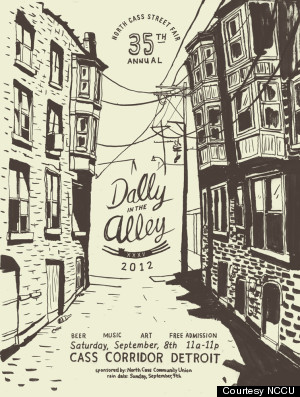 "I used to live in that alley when I first moved to Detroit seven years ago," he said. "I kind of already had in mind what I had wanted to do. I was just interested in the architecture of that space -- and the city as well -- but that alley I always found interesting."
Burdick said, after the festival's organizers approached him to do the illustration, that he looked over a collection of old Dally posters on the event's website. Although Burdick, 25, is a professional graphic designer with a background in painting, he said he found his inspiration in the understated aesthetic of festival's early years.
"The posters from the '80s were just … really just simple illustrations and had all the information on it and just one or two colors," he said. "I wanted to really emulate the style when the Dally was first going on … simple and just kind of rough."
Burdick also snuck in the obligatory alley cat into his piece. It's a tradition that dates back to the very first Dally poster in 1982, which starred a trio of hep cats drawn by artist Brian Taylor and featured lettering by famed rock poster artist Gary Grimshaw (who has a book release event this Sunday at Book Beat in Oak Park, Mich.).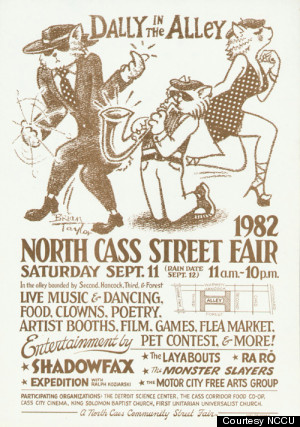 Over the years the Dally's posters have been illustrated by a number of local art luminaries including Grimshaw; his fellow rock poster artist Mark Arminski; fantasy, fine and rock-and-roll arts illustrator Carl Lundgren (with his wife Michele); and macro/micropointillist artist Stephen Goodfellow (who is also a member of the perennial Dally rock band The Layabouts).
Mark Heggie, a nationally known tattoo artist, designed the 2005 Dally poster that originally inspired Burdick to take up the pen for this year's festival. His contribution features an angled shot of a cartoonish alley cat playing a guitar under a blazing sun. Heggie has been part of the Dally for eight years and looks forward to the event every year.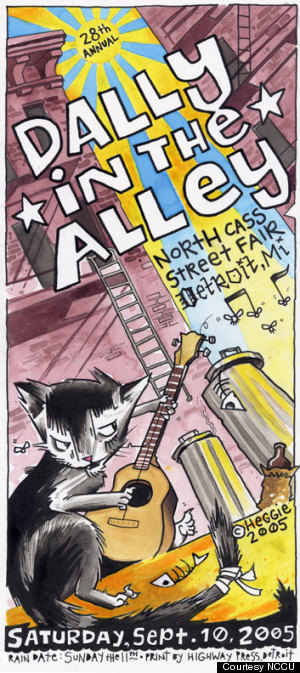 "The Dally is always an extravagant bonanza. The vivacious buzz that fills the streets is a feeling everybody wishes would stay with the city day in and day out," he told The Huffington Post in an email. "I only wish they repeated artists, so that I could donate another design to the cause."
Jerome Ferretti, a local painter, muralist and sculptor, is another poster maker with fond memories of the Dally. His piece, which appeared in 2001, is a spoof on Stanley Kubrick's "2001: A Space Odyssey." At the time he was just getting familiar with Photoshop. So, he used a combination of computer and drawn elements to create a cat astronaut hurtling through a scene from the movie.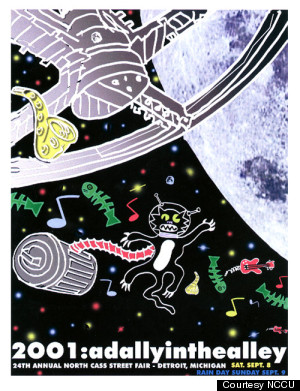 Cats, especially alley cats, are a reoccurring presence in his art. It's a development he credits to the fair.
"I used have a booth at the Dally," he said. "For fun, for arts sake -- I wasn't trying to make any money -- I would just do a bunch of crazy things at the Dally every year. I made cut-out cats out of metal. My friend had a metal shop. ... I did that for a couple years."
Another year, he made hats out of newspaper comics and sold them at his booth for a dollar a piece. Much to his surprise, he had nearly 2,000 takers that year. Ferretti's whimsical nature also came out when he insisted on a very specific method for getting paid for his poster commission.
"They said I'd get a check," he said. "So I made them blow it up really big, so it looked like one of those giant checks that you get. Somewhere out there, there's a picture of me and the [Dally's former treasurer] Allen Schaerges [with the check]. We had a lot of fun."
Much like Burdick, Ferretti said he's proud to be part of the fellowship of local artists who've been given a chance to capture the essence of the event in a poster.
"The tradition -- It's an honor to do. It's almost like you're accepted into the 'Cass Corridor' artists," he said. "You're part of them -- part of that whole culture."
To find out who's playing this year's Dally, look below. For more about the fair including this year's location and a complete music lineup (and a link to a gallery of past Dally posters), visit www.dallyinthealley.com.
PHOTO GALLERY
Dally in the Alley 2012
BEFORE YOU GO