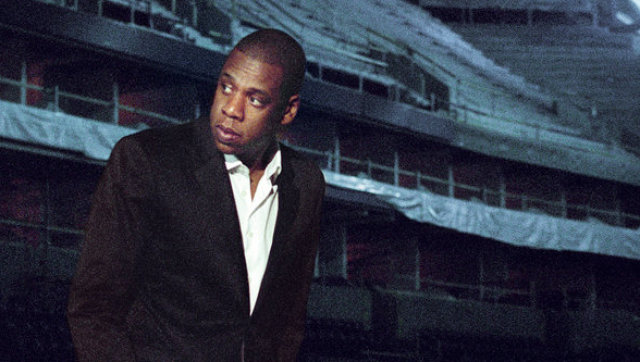 Sean Carter. Jay-Z. Hov. Whatever name one prefers to call him, one thing is certain--despite being knocked to the number two spot on Forbes' annual Hip Hop Cash Kings list--the iconic hip hop artist has had quite the year.
And now Jay can add fashion star to his list of accomplishments. The 42-year-old mogul landed the cover of T: The New York Times Style Magazine's men's fall fashion issue.
The article "The House That Hov Built" written by critically acclaimed author Zadie Smith, explores the contradictory environments—like "hardcore hip-hop" and "pop-rap"—that Jay-Z simultaneously navigates with confident familiarity.
"In "Decoded," Jay-Z writes that "rap is built to handle contradictions," and Hova, as he is nicknamed, is as contradictory as they come," writes Smith.
Jay shared a lunch of chicken parm and fish sandwiches with Smith as they spoke about his rise to fame, the boastful nature of rappers, and his lack of involvement in the Occupy Wall Street movement.
"I'm not going to a park and picnic, I have no idea what to do, I don't know what the fight is about," he said, referring to a conversation he had with fellow hip hop mogul Russell Simmons. "What do we want, do you know?"
The family man also delved into his newly found fatherhood and his hopes for his daughter Blue Ivy, who turns one-year-old in a few months.
"She doesn't have to be tough," Jay-Z told Smith. "She has to love herself, she has to know who she is, she has to be respectful, and be a moral person."
Jay, Bey, and their daughter Blue Ivy recently embarked on a family yacht vacation aptly fit for celebrity royalty. The paparazzi even managed to snap a few highly coveted pictures of the adorable baby girl.
Up next on his plate: the forthcoming completion of a sports arena that will house the NBA's Brooklyn Nets.

BEFORE YOU GO
PHOTO GALLERY
Jay-Z And Beyoncé's Cutest Moments