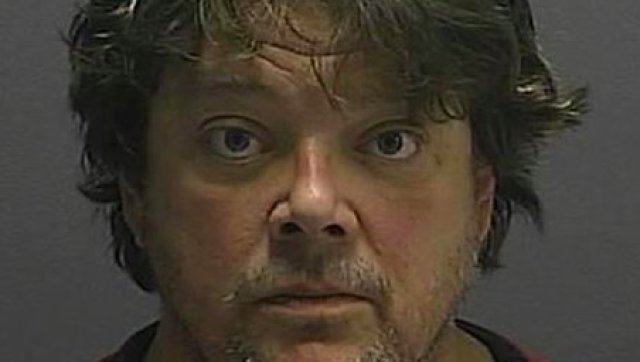 WASHINGTON -- Bruce Lawrence May won supporters when he was caught shooting glass marbles at a Maryland speed camera van over the summer.
According to a police report, May was angry about having received two speeding citations in the previous six weeks.
After being convicted of reckless endangerment and malicious destruction of property last week, WTOP-FM reports that the marble-flinger now expresses remorse over his actions:
"I had already gotten two tickets from these things," May tells WTOP in an exclusive interview.

"What I did then was very stupid. I had a slingshot in my van and I just lost it."
The D.C. area has experienced plenty of anti-speed camera vigilantism recently.
Chef Geoff Tracy, who is married to CBS News White House correspondent Norah O'Donnell, fought back with clever tactics: In January, he hired a sign spinner to warn drivers on Foxhall Road in D.C. about a speed camera that caught him speeding three times. (See the spinner in action here.)
Taking things a step farther, a man with a hammer and shotgun smashed a speed enforcement car's windshield near BWI Marshall Airport and someone in D.C. spray-painted an orange "X" over hidden camera locations. Other area speed cameras have been set on fire and hit with rocks -- and more such aggressive retaliation could come.
Virginia doesn't allow for the use of mobile speed cameras -- but D.C. and Maryland have massively expanded their programs in recent years.
In the last year, Prince George's County quadrupled the number of mobile speed cameras, while Montgomery County's fleet has doubled. D.C. is also increasing its mobile speed camera arsenal.
Mobile speed camera supporters say that the devices lead to safer roads. Detractors have a different take:
"They're sitting ducks, that's the problem," John Townsend of AAA says. "The device themselves should not be hidden or obscured so that motorists can't see them. It revives the old dispute: are these devices to improve safety in the city, or are they to improve the revenue stream?"

No question the city's getting more per ticket. In the height of the budget crisis two years ago, the basic fine rose from $50 to now $125, more than double, while the rest of the fines all went up $50.

Suburbanites complain and statistics show they get most of the tickets.

"The vast majority of the people who get the tickets cannot vote for you or vote against you," Townsend says.
May now says he shouldn't have attacked the Ellicott City speed camera with marbles. He says that he should have attacked the speeding tickets in court.
"Use the legal system to your advantage. Go to court, even if it costs you a day of work," he told WTOP. "Make them work for their money, instead of just having this roadside ATM machine."
And for those who creatively and vehemently oppose hidden speed cameras, there is some hope: The speed camera that vexed Tracy was moved after his sign-spinning stunt.
GALLERY: WEAPON OF CHOICE
PHOTO GALLERY
Weapon Of Choice
BEFORE YOU GO