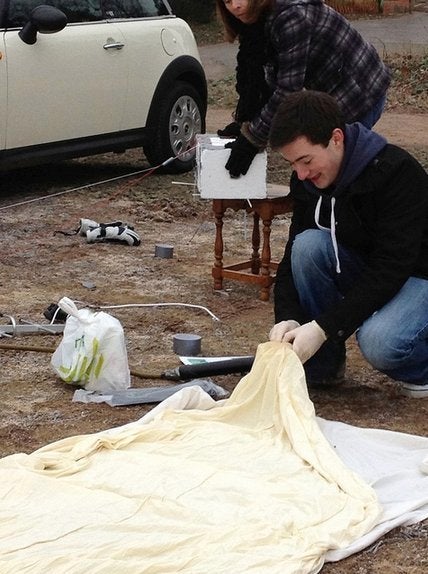 Using a camera he bought on eBay and a helium balloon to send a homemade spacecraft into the sky, 19-year-old Adam Cudworth accomplished a feat usually reserved for NASA scientists in his spare time after school. His DIY project allowed him to capture beautiful images showing the Earth's curvature when he released it into the sky last Thursday.
According to the Telegraph, the British teenager placed his camera inside a weather-protected box along with a GPS, radio transmitter, and microprocessor, which he was able to launch more than 20 miles into the sky.
"When I retrieved the camera I was stunned," Cudworth told the Telegraph. "It had captured some incredible photos and footage."
The British teenager, whose scientific knowledge comes from his Physics A-levels, was able to create his contraption on a £200 budget (roughly $320 US), according to the Sun.
Cudworth shared his personal photos of the spacecraft and the images his camera took from space with The Huffington Post. Check them out in the slideshow below.
CORRECTION: a previous version of this story indicated that the spacecraft was launched 20 feet in the air, when in fact it was 20 miles. The story has been updated.
BEFORE YOU GO
PHOTO GALLERY
Teen's Space Camera Photos