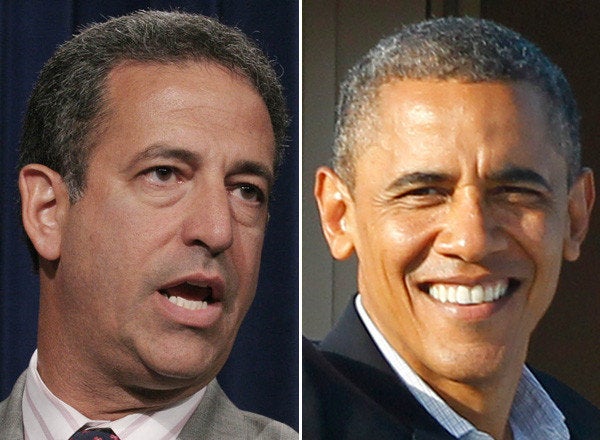 The debate over how Democrats should approach the proliferation of super PACs in the 2012 election cycle is over, and the voices of morality have lost.
The party's convention in Charlotte, N.C. last week witnessed a veritable embrace -- from members of the donor class to the average voter -- of the super PAC culture that many once decried. There were caveats. People said they supported super PACs allied with President Barack Obama strictly for the purpose of matching conservative cash. Once the election is over, legislation should be passed to limit the influence of outside money, they said, and a constitutional amendment may be needed.
But few seemed disturbed that Democrats were, as former Sen. Russ Feingold (D-Wis.) famously declared, "playing with the devil." If anything, they feared that the Republican's devil was bigger and badder than their own.
The hero-like reception that Bill Burton, founder of the Obama-backing Priorities USA Action, received while strolling the streets of Charlotte demonstrated this shift. Shuttling between television interviews and donor events, the former Obama spokesman turned partisan knife-man was stopped regularly by convention-goers hoping to snap a picture.
"This is as close to Obama as I'm going to get," one proclaimed.
While Burton conceded that the reception was warm at the Democratic convention, he wouldn't get into how well his group did among the moneyed donors who were present that week.
"There was some positive activity in terms of actual collection of cash," is all he had to say.
That shouldn't be much of a surprise. After remaining chilly to the concept of super PACs, some of the party's wealthier members are beginning to take out their checkbooks. Priorities USA announced to supporters in Charlotte that it had raised $10 million in August -- its biggest haul yet over a one-month period. As The Huffington Post's Paul Blumenthal reported, many of the super PACs spent time in North Carolina hosting happy hours, private donor briefings and end-of-convention parties, all intended to make next month's figures much larger.
The embrace has extended to the top reaches of the White House as well. Chicago Mayor Rahm Emanuel, Obama's former chief of staff, announced during the convention that he would be leaving his post as an honorary chair of the reelection campaign to help raise money for Priorities USA. (He put those fundraising efforts on hiatus Monday to deal with the teachers strike in Chicago.)
Shortly after the convention closed, a senior administration official acknowledged in a briefing with reporters that it would be helpful if Priorities USA would play an elevated role in combating GOP nominee Mitt Romney's third-party allies.
"We think that would be obviously an important development in the campaign if the resource disparity would be to get more evened up," the official said.
A top Republican source, speaking on condition of anonymity because he wasn't cleared to talk about the issue, noted that such a statement would have elicited howls just one year ago. It would have raised some eyebrows even after the Obama campaign publicly embraced super PACs in February of this year. But Monday, it passed without much notice.
"It's one thing to be concerned about how lousy your PACs are, but it's quite another for a Senior Administration Official to call on them to step up and play a larger role while also arguing they play too much of a role," the Republican source emailed.
Asked for a response, an Obama campaign official replied: "We'd already made abundantly clear that we support their mission which is reelecting the president."
And so Feingold, increasingly, has become a party of one in arguing that there is a political upside to being clean of super PAC cash. When reached for comment, a spokesman for the former senator noted that numerous high profile Democratic fundraisers were still withholding their support from Priorities USA. That stance, though, was likely driven as much by complacency and the belief that Obama didn't need their help as it was by philosophical opposition to super PACs.
"As the fundraising numbers of Democratic super PACs have shown, it's both bad policy and bad politics to embrace the organizations created by Citizens United. Hopefully Democrats will come to that conclusion before we see scandal," said Cole Leystra, the Executive Director of Progressives United, Feingold's political action committee.
But even the pro-campaign finance reform community, which never fully bought into Feingold's proposition, is increasingly willing to forgive the type of activity they disdain in exchange for promises of legislative changes after the election.
David Donnelly, national campaigns director of the Public Campaign Action Fund, a group that tries to limit the influence of money in politics, relayed a conversation that he had a while back with a super PAC donor.
That donor, according to Donnelly, said Obama told him that "if he didn't win, he'd be the last Democratic president." By that, the donor said, Obama meant that if he didn't get elected, every subsequent candidate would either have to play the super PAC game or be overwhelmed by the financial disadvantage he or she faced. Any chance for campaign finance reform, meanwhile, would be irrevocably set back.
"At this stage, there are probably two kinds of winning politics, short-term and long-term, for the Democrats," said Donnelly. "In the short term, the winning politics is to bemoan the other side's money and try to get your own donors to end their handwringing about super PACs long enough to write a check. The long-term winning strategy for Democrats -- or for the GOP if they wanted to play it -- is to go all in on a strategy to deliver for Americans what they want — control over politics again."
BEFORE YOU GO
PHOTO GALLERY
Donors Giving $500,000-Plus To Super PACs